Someone else or you yourself must have gifted a nice vehicle, be it a car, a bike, or a scooter. Now your vehicle must have become your most beloved one, whom you like, love, and care on a daily basis. You can't even think of going out without them. But have you ever thought of gifting something to your beloved vehicle?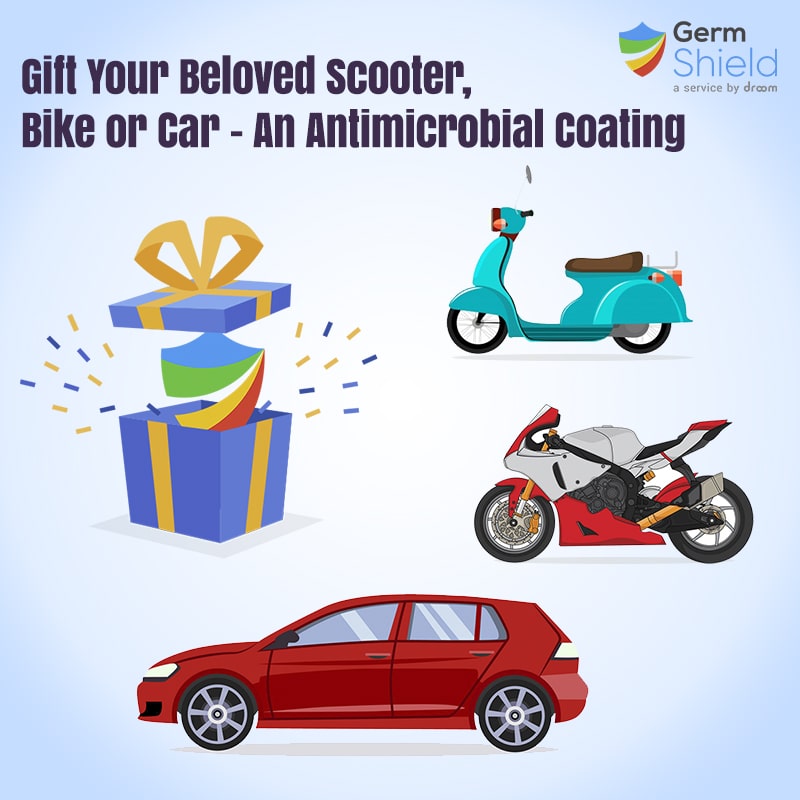 Your beloved scooter, bike, or car that has made your life easier and has always been with you like a true friend, also needs special attention. Cleaning of a vehicle is more than what is visible to the naked eyes. Germs grow quicker than you can think in your vehicle. If the intricate nook and corners are not attended with professional hand, you are sure to miss something like the inner side of the door handle or the headrest of the driver's seat. Now, you may be busy; hence, sanitization or deed clean every day is not possible. The good news is that you can clean it and can relax for next 90 days with the most advanced form of antimicrobial treatment, you can easily shield every inch of the car or bike with long-lasting effect and get 99.9% germ-killing antimicrobial protection. Gone are the days of everyday sanitization or deep cleaning. Save your time and ensure the safety of your family and yourself with this new system of sanitization.
Your Scooter, Bike, Or Car Is Susceptible to Contagious Microbes
Your "friend in need", the vehicle that might have covered thousands of miles by now, is actually a proven carrier of six hundred or more different types of microbes. Most of these microbes are contagious that can easily transfer from human to human, human to non-living objects, and non-living objects to human. Lethal droplet-based viruses also spread in this way unhindered. Once a stain of viruses gets a suitable place to stabilize, it starts forming colonies quickly. If you don't pay the required attention or take the help of the service offering antimicrobial coating for vehicles, you'll not be able to stop their growth. If you cannot stop their growth, anyone touches the surfaces like the starter, accelerator, doorknob of the car, etc. get infected with these microbes causing different diseases.
Importance of Antimicrobial Coating for Vehicles
Hundreds of different types of germs are formed inside a car and even in your scooter or bike. If the vehicle is used regularly it should be kept sanitized to minimize the chance of unhindered spread of germs. As such, car sanitization is an extremely important task right now. The antimicrobial coating forms an undetectable shield all over the vehicle that lasts for several months and naturally acts as a sanitizer. It effectively removes every single colony of germs and doesn't allow the formation of new colonies. With this advanced germ protection for vehicles, you can keep every corner of the car or two-wheeler sanitized in the best possible way. The antimicrobial shield acts like a fence that protects the vehicle from harmful germs, but it doesn't cause any harm to the vehicle neither it has any side-effects to your skin or eyes.
Germ Shield – Keep Your Scooter, Bike, or Car Protected
Germ Shield is a new technology keeping all kinds of vehicles and facilities sanitized automatically –
It is 99.9% effective means it kills almost all germs growing in different spaces of your scooter, bike, or car.
Once applied, it remains effective for 3 months means for the next 90 days you need no other sanitization work for your vehicle except general dusting.
It immediately stops the contamination of metallic and non-metallic surfaces with infectious microbes like viruses, bacteria, and fungi.
Skilled professionals having years of experience in germ protection for vehicles will visit your place for applying Germ shield –
They'll check the contamination level before and after the application of Germ Shield.
They'll provide a certificate of completion of the sensitization job.
They'll offer all necessary professional advice to optimize the effectiveness of Germ shield.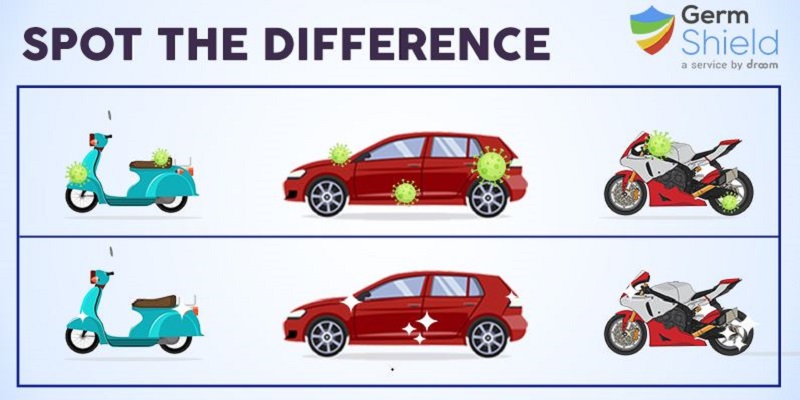 With the best antimicrobial coating, your vehicle will remain safe to use anytime. Moreover, the uppermost surface of the vehicle will get a new life since the antimicrobial protection will protect the "skin" of the vehicle from the adverse weather condition as well.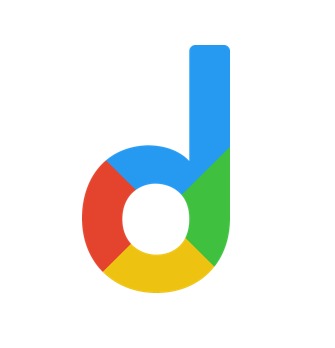 Droom is an automobile e-commerce platform offering a 21st-century automotive buying experience online with its four value pillars including trust, selection, low price, and convenience second to none. It offers 250k+ vehicles online in 1,100 cities — both used and new. Droom deals in buying and selling cars, 2-wheelers, and other vehicles too. It is an AI and data science-driven platform designed with the best ecosystem tools. Here, we have a team of auto-experts and auto enthusiasts who are dedicated to covering every sphere of the auto industry by simplifying the procedure of buying and selling with Unified Droom Experience. To know more, click here.