Sanitization and hygiene are no more a luxury but a necessity to be incorporated into daily lives. Coronavirus, in recent times, has made people adopt many lifestyle changes. People are working to improve immunity, adopting a healthier lifestyle, and staying clear of infection prone facilities and surroundings to prevent its spread.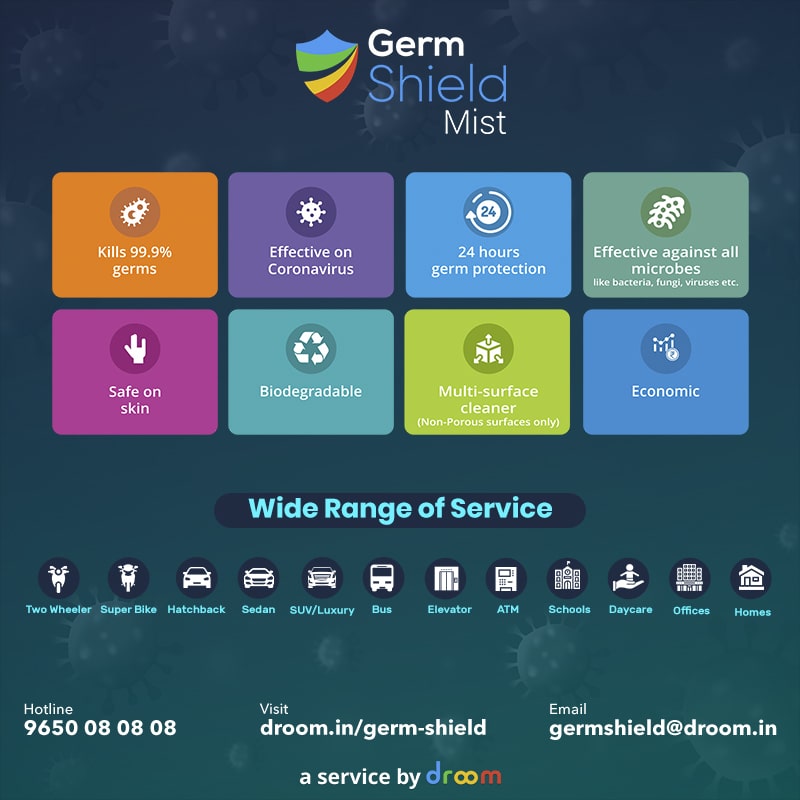 While you can sanitize your hands from time to time, you should also think about elevators, car doors, or the office doors. If you happen to be continuously worried of hygiene, you will be delighted to know that Germ Shield Mist is here, and it is here to make sure that you are able to carry on with your day without any nagging suspicion of infected surfaces.
By now, you might be wondering what exactly Germ Shield Mist is. Well, here is your answer:
What is Germ Shield Mist?
Simply put, it is a coating of an anti-microbial layer which kills off 99.9% of germs on any non-porous surface. It prevents microbial growth on the surface for up to 24 hours to ensure that you and your loved ones are safe from any virus infecting sickness or disease.
It is highly effective against:
• Germs
• Virus
• Fungus
• Algae
• Molds
• Bacteria
Based on the tests carried out by the Microchem Laboratory, Texas, it has proven to be effective against Coronavirus as well, and NABL accredited lab in Chennai also confirmed its effectiveness against microbes. It is a proven solution that is not to be confused with other disinfectants or sanitizers.
Germ Shield Mist: Antimicrobial coating v/s Disinfectant
With the sudden influx of antimicrobials, sanitizers, disinfectants, and what not in the market, it is quite easy for people to be confused as to which one to choose.
First is to understand the properties of these:
Antimicrobials: Antimicrobials prove to be effective against a wide range of infection-causing carriers. They not only kill microbes but also prevent their growth over a period.
Disinfectants: The chemical composition of a disinfectant decides if they are effective against the virus, bacteria, fungus, etc. Different types of disinfectants prove to be effective against different microbes.
Sanitizer: Sanitizers kill a wide range of microbes; however, their effectiveness lasts for only a few hours.
For bigger surface areas, it is Germ Shield anti-microbial coating which proves to be a lot more effective and feasible. There are plenty of benefits as well which are stated below:
• Compared to disinfectants, Germ Shield anti-microbial coating lasts for up to 24 hours. Thus, removing the existing microbes as well as inhibiting their growth.
• Germ Shield Mist is tested and approved by the leading labs.
• It can be used for any automobile, big transport vehicles, elevators, home, office, and other places, covering a large surface area with higher absorption rates.
• It is an odorless, non-toxic, biodegradable solution that does not cause any harm or allergy.
• It removes surface stains for the bright shiny surface.
The professionals first check the surface for infection and you can see the result for yourselves. A report is generated for the sanitized surface pointing out the pre-and post-microbial coating results.
Promises of Germ Shield Mist
Germ Shield Mist promises to be the need of the times. When everyone is looking for ways to ensure the safety of their loved ones, it is one solution that stands apart for its effectiveness and applications.
Germ Shield promises to:
• Safeguard your loved ones from germ causing sickness
• Secure residential facility, elevators, big transport, automobile, etc.
• Eliminate 99.9% germs, viruses, fungus, molds, etc.
• Secure the treated surface for up to 24 hours
Germ Shield was formulated to ensure that people can carry on with their lives without any unnecessary worries. The antimicrobial coating takes care of the contaminated surfaces while you go on with your daily lives without the risk of contracting any disease.
Where can Germ Shield Mist be applied and the cost?
An individual encounters plenty of contaminated surfaces daily. While you can keep the risk of contamination to a minimum with regular use of sanitizers, Germ Shield Mist helps you secure:
Automobile
An automobile, be it a 2-wheeler or 4-wheeler, has contamination hot spots. For 2 wheelers it is the accelerator, headlight, and seat cover and for 4-wheelers car doors, dashboard, seat, trunk, the gearbox which are generally most contaminated.
Cost of treatment:
The one-time treatment for 2 wheelers starts at Rs. 79 and for 4 wheelers, the one-time treatment starts from Rs. 169 and is dependent upon the car body.
Big Transport
Secure the big transport vehicles such as trucks and buses with Germ Shield Mist to ensure the safety of all. If you happen to own traveling buses, you can use the Germ Shield Mist certifications to highlight the measures undertake for passenger safety.
Cost of treatment:
For Big transport vehicle, the one-time treatment charges are Rs. 2 per sq. ft.
Elevator
Elevators are probably the most contaminated of all. Irrespective of a residential or commercial building, the sheer number of people using lift should be enough to convince anyone to opt for antimicrobial coating.
Cost of treatment:
The one-time treatment of small elevators starts at Rs. 129, for the medium elevator, the one-time treatment starts at Rs. 169 and for large elevators, the one-time treatment starts from Rs. 249 and it increases depending on the size of the elevators.
Home
Keep the contamination concerns of your guests at bay with an anti-microbial coating. Occasions such as birthdays, anniversaries, or even marriages mean that there will be people traveling to and from your house. For such occasions, Germ Shield Mist anti-microbial coating is just what you need to keep the environment relaxed.
Cost of treatment:
For one-time treatment, the cost of Germ Shield Mist is Rs. 2 per sq. ft.
Office
Keep the productivity to its maximum with Germ Shield Mist. You do not want any employee to be sick because of infection or otherwise, contaminated office premises ensure that the employees are able to work to the best of their abilities without worrying about contracting an infection.
Cost of treatment:
For one-time treatment, the charges are Rs. 2 per sq. ft.
How long does it take to complete the Germ Shield Mist treatment?
All it takes is 10-15 minutes to get your automobile or elevator sanitized. For an office, home, or big transport, it usually depends upon the surface area to be coated with. Once the coating is applied, it takes 15 minutes for it to dry up and bond with the surface.
Go ahead and secure your surroundings with Germ Shield Mist anti-microbial coating. Get in touch now at 9650080808.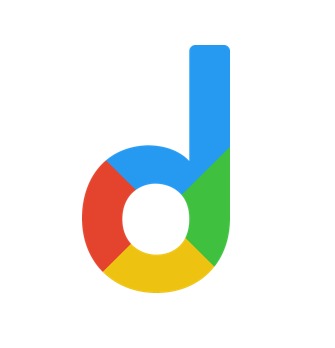 Droom is an automobile e-commerce platform offering a 21st-century automotive buying experience online with its four value pillars including trust, selection, low price, and convenience second to none. It offers 250k+ vehicles online in 1,100 cities — both used and new. Droom deals in buying and selling cars, 2-wheelers, and other vehicles too. It is an AI and data science-driven platform designed with the best ecosystem tools. Here, we have a team of auto-experts and auto enthusiasts who are dedicated to covering every sphere of the auto industry by simplifying the procedure of buying and selling with Unified Droom Experience. To know more, click here.