"Prevention is better than cure"
Pandemic has forced us to take all forms of protection against the deadly virus. Though medical fraternity is trying their level best to provide the best treatments to the patients, everything happening on trial and error basis. In such circumstance, having all preventive methods are the wisest choice for everyone. Apart from using masks, washing and sanitizing hands, and sanitizing vehicles and facilities, the application of antimicrobial coating can hundreds and thousands of pathogenic microbes at bay. In the matters of pathogenic microbes that look for chances to break the immunity system of the body, there is no way to reside on trial and error.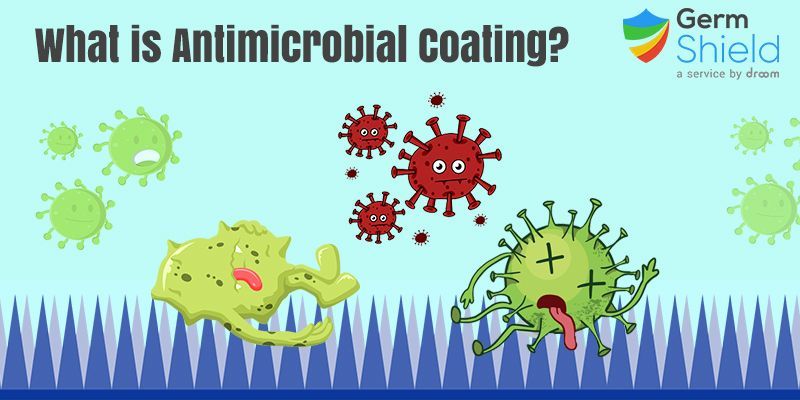 What is the antimicrobial coating?
The antimicrobial coating industry is spreading rapidly just like the virus. When the world is extremely concerned about the rapid and unhindered expansion of viruses, the necessity of antimicrobial coating is felt everywhere.
The antimicrobial coating is a perfect combination of proven chemical formulation and antimicrobial technology that creates an invisible coat on the upper surface of any material where it's applied. Its formulation creates a transparent coating with transparent spikes that ruptures the outer skin of the virus once it tries to settle don on the surface. So, it helps to prevent the development and mutation of pathogenic microbes on the surface. This means those surfaces where an antimicrobial coating is applied remain germ-free for a pretty long time. A scientifically formulated antimicrobial coating can keep a surface 99.99% germ-free for nearly 90 days.
The advantages of antimicrobial treatment
The benefits of antimicrobial treatment are many. Let's have a quick look at the most obvious benefits:
Long-lasting protection against several types of pathogenic microbes including SARS types of virus, fungi, mold, and bacteria. The formula prevents the growth of microbes effectively.
The fine invisible coating when applied to a metal surface including wooden and plastic-coated surfaces, the lifespan of the articles increases manifold. There would be no lumps, stains, or stench on the as long as the coating remain effective.
Some places like hospitals and banks where the gathering is always high these coatings keep the places clean and hygienic.
This is a cost-effective way of sanitization. The public places that require sanitization almost every day can be kept sanitized with this form of treatment for a long time.
Is it safe to use antimicrobial coating?
Microorganisms are vital to our environment. They keep the ecosystem in balance by decomposing dead plants and animals. Humans have been using these good microorganisms for various reasons like the fermentation of food and the formulation of vaccines. However, not all microorganisms are good for humans. The harmful microbes are the sources of many deadly diseases. Simply, we need to kill these microbes and prevent their growth. Through a state-of-the-art antimicrobial treatment procedure, these harmful microbes can be arrested immediately. Such treatment procedures are scientifically tested for various aspects for their effectiveness and side-effects. These are marketed only after confirming their safety to human skin, eyes, and breath.
How to use antimicrobial coating?
Antimicrobial coatings are considered as the most advanced infection control system in any setting without compromising the health of people living in the houses or working in the factories sanitized. The coatings keep doors, windows, tabletops, chairs, and all other high-touched areas permanently sanitized for a long-time. However, to make it effective you need expert assistance. If you contact antimicrobial treatment experts like Germ Shield service, they'll visit your house, indicated space like elevators or ATMs or premises with all required tools, cleaners, and antimicrobial technology for developing the strongest possible antimicrobial shield.
Who should use this?
Droplet-based viruses are spreading like a wildfire. There is no scope for respite. The industry of antimicrobial coating in India has witnessed a giant leap in demand in the past six months. Top service providers of the industry have developed effective techniques that can be applied almost anywhere. Here have a look: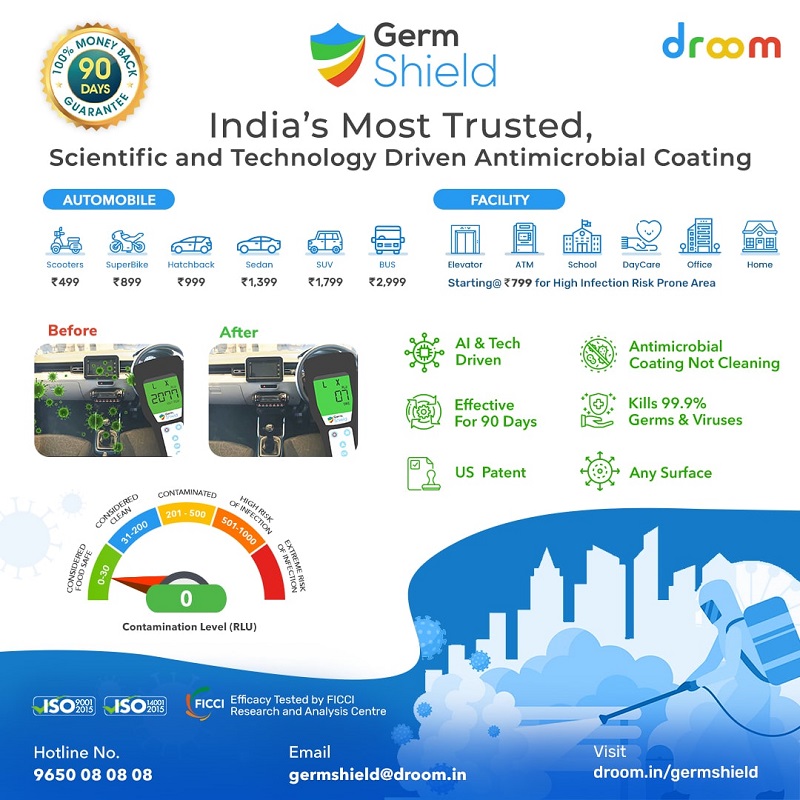 Antimicrobial Coating for vehicles – This treatment applies to bikes, cars, good-transporting vehicles, ambulances, and all other types of vehicles.
Antimicrobial Coating for elevators – Any type of elevators can be kept safe with this treatment.
Antimicrobial Coating for facilities – Any types of facilities including banks, insurance offices, other offices, factories, and workstations can be made germ-free with this microbe-preventing coating.
Antimicrobial Coating vs. Other Germs-Killers
Application of the antibacterial shield of coating is much more advanced form of the germ-killing process than the other forms. The antibacterial shields can only arrest the growth of bacteria. The disinfectant sprays could not be used on fabrics, leather, or any porous surfaces. Moreover, disinfectant sprays couldn't remain effective for more than 2 days and their effectiveness on the droplet-based viruses is much weaker than antimicrobial coatings. Though the industrial grade sanitizers remain effective for almost 10 days, these are not effective for droplet-based viruses. Like disinfectant sprays, they cannot be applied on the leather, fabrics, or porous surfaces.
How much effective is the antibacterial coating?
An antibacterial coating like Droom's Germ Shield has the capacity of removing up to 99.99% microbes of all kinds. Having this treatment can prevent hundreds of contagious diseases from spreading in the mass. The best part is this antimicrobial treatment remains effective for 90 days and also provide 100% money back guarantee. It can be applied on any fabrics and surface, does not leave any spots or damage to the surface, completely odorless and prevent odor in the future as well and also has no side-effects; does not rub off or transfer onto skin.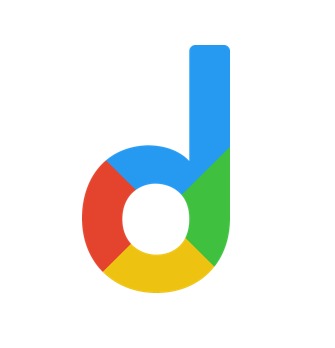 Droom is an automobile e-commerce platform offering a 21st-century automotive buying experience online with its four value pillars including trust, selection, low price, and convenience second to none. It offers 250k+ vehicles online in 1,100 cities — both used and new. Droom deals in buying and selling cars, 2-wheelers, and other vehicles too. It is an AI and data science-driven platform designed with the best ecosystem tools. Here, we have a team of auto-experts and auto enthusiasts who are dedicated to covering every sphere of the auto industry by simplifying the procedure of buying and selling with Unified Droom Experience. To know more, click here.