Regardless of where you live in the country – Rural or Urban, you are sure to find these scooters all over the place. In recent times, Scooters have gained an immense amount of popularity; the major reason is the gearless riding which makes the journey effortless and relaxing. The steady built and performance of scooters has made them a go-to-option ahead of the bikes. Currently, there are more than 10 brands available in the country with over 50 models. The amount of options available makes it more difficult for the buyers to choose which scooter is the best. There are more than 1 crore visits on bike portals every month, and that shows the enormous interest that the buyers have in scooters nowadays.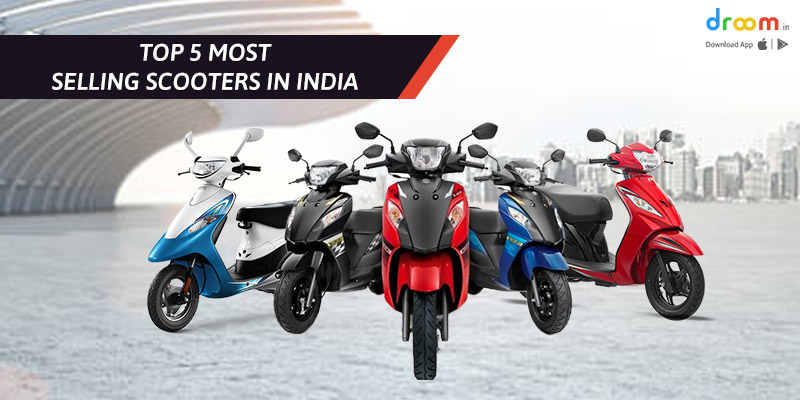 When we talk about popularity, by far Activa is the most popular model in India. Apart from these new entrants such as TVS Ntorq and Aprilia SR 150 are gaining popularity with each passing day owing to their blistering performance. When it comes to sales, there are five models which are the best-selling models in the country as in current time.
The list goes as follows:
5. Suzuki Access – 40,000 units sold
Access is the Japanese manufacturer's flagship model, and with frequent revisions, it is one of the top-selling models. A unique thing about Access is that it is a 125cc scooter which is powerful when compared to the majority of the scooters which are 110cc. The Suzuki Access is available in 3 variants and 8 colours.
Power: 8.4bhp
Mileage: 64 kmpl
Price: INR 56,716
4. TVS Ntorq 125 – 8309 units sold
Launched just a couple of months ago, this high-performing beast is TVS' first upmarket offering and is quite popular for its performance. The features in this model make it a direct competitor of Honda Grazia. This model features a clock, top speed recorder, lap timer, helmet and service reminders along with digital display which is quite futuristic.
Power: 9.3bhp
Mileage: 55 kmpl
Price: INR 64,332
3. TVS Jupiter – 63, 534 units sold
TVS Jupiter is yet another entrant into this list which is the second best-selling scooter in the country behind Activa. Both the genders are equally interested in TVS Jupiter as the model attracts both of them. It is available in 4 variants and 10 colour options.
Power: 7.8 bhp
Mileage: 56 kmpl
Price: INR 52,372
2. Honda Activa 4G – 247, 377 units sold
Scooters in India are having a rebirth. With a recent resurgence in the Indian market, scooters have made their presence felt in the two-wheeler market wherein Honda Activa 4G is spearheading the presence. Since its launch, around 15 years ago, Activa has carved out its own niche and has made a place for itself as the most successful scooter in the country.
Power: 8 bhp
Mileage: 60 kmpl
Price: INR 52,372
1. Honda Activa 5G – N/A
The latest version of the Activa, the Honda Activa 5G has introduced just a couple of months ago at the Auto Expo. There is no doubt that this model is going to be the best selling model by the time 2018 ends. Available in two variants and eight colours, Activa 5G is expected to take the Honda Activa heritage to a whole new level.
Power: 8 bhp
Mileage: 60 kmpl
Price: INR 55,372