You might think that a period of 4 years is a long time. After all, you can witness countless changes in seasons and a leap year in this time span! It is no different when it comes to the business world, especially the automobile market.
The industry changes on a daily basis with change in prices, sales trends, trending technology, etc. For now, the apple of the eye of the auto market happens to be the used vehicles sector! According to the used vehicle sales data, there has reportedly been a steep rise in the prices of used vehicles in the past 4 years. So why are used cars, bikes, scooters prices going up?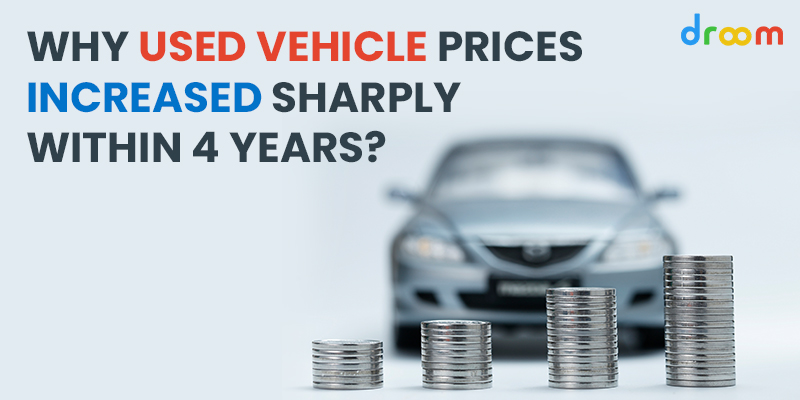 Sandeep Aggarwal Droom Founder & CEO, explained this hike in prices of the used vehicles, as witnessed in the past 4 years. Droom is the first and largest online marketplace operating in India to purchase and sell used vehicles, ranging from a scooter to an airplane!
According to a Droom Automobile Trend Report 2018, the price hike in the used automobile sector has been simultaneous to the changes in the pecking order of the most favored car or bike brand.
Reasons for the hike used vehicles price
There are plenty of reasons for the price hike in the used vehicles segment. There has been a very important observation made in the sales trends of the last 4 years. The observation is that the price hike in the used vehicles segment is similar to that of the new vehicles. However, the rising curve for the former is steeper.
Sandeep Aggarwal said this is fundamentally due to the growing demands of the people. With new technologies that constantly flood the industry, the older technologies start going to the back foot. The older technologies, which were supposed to be luxury features at some point in time, have now become the bare necessities.
Hence, in the entry-level models, people opt for the high-end variants. And just like that, the mean price of the passenger vehicles is expected to grow by Rs. 60,000 – 80,000 in every 7-8 years. This is being reflected in the used vehicles segment as well. And that is the circle of price hike that would be reported in the future as well.
Observations and footnote
The study based on Droom's online marketplace displayed some interesting buying trends in recent times. 59% of the consumers prefer buying diesel fuel cars compared to the 39% who prefer the petrol variants. As for the country of manufacture, the Indian, Japanese and South Korean vehicle manufacturers are being preferred by 34%, 21% and 17% of the consumers, respectively. Also, manual transmission cars are being preferred over automatic ones by 75% of the customers.
These trends have all been similar to the trends seen across the various vehicles in the new vehicles sales. Hence, the people's preferences remain the same, irrespective of the vehicle being new or thrifted. So do the prices!