At present, the global automotive industry to some extent is in a state of turmoil with the companies pursuing different strategies to shifting to the next generation of technologies and adjusting to the changing consumer behavior. Consumer demand has been changing in different aspects – technology, price, design, safety, and most obviously fuel. Growing prices of petrol and diesel are a matter of concern for the automotive industry as well as the consumers. One way, demand for two-wheelers and four-wheelers are escalating day by day, on the other hand, people are walking and cycling more to save travelling expenses. It should be kept in mind that automobile contributes almost 7% of GDP in India. Government has an optimistic plan of extending it to 12% by the end of 2026. Letting go off all past issues the market is gaining momentum with a remarkable increase in the auto market size. Maruti Suzuki has registered a growth of 14.6% in the passenger vehicle category while the growth of light commercial vehicles has been doubled in December 2020 in comparison to the same month in 2019. Hyundai has registered almost 25% and Tata Motors has registered 84% growths in December 2020 in comparison to December 2019.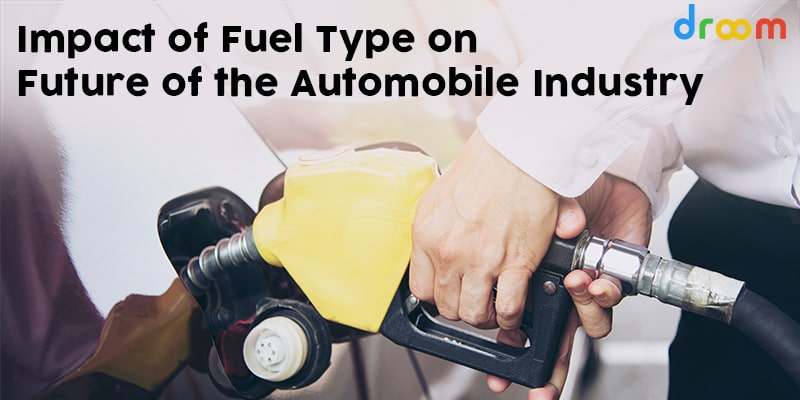 Fuel prices and types of fuel to be used have remained a hot topic of discussion in the expert circles. Research is on and diversifying in search of better, sustainable, more efficient, and environment-friendly fuels.
Key points:
What factors are driving the auto market?
Where is India's favoritism heading in terms of fuel type?
Expected Penetration of CNG and battery-electric-vehicle in India
Difficulties with CNG and electric vehicles
Expansion possibility of fuel cars irrespective of price hike
What factors are driving the auto market?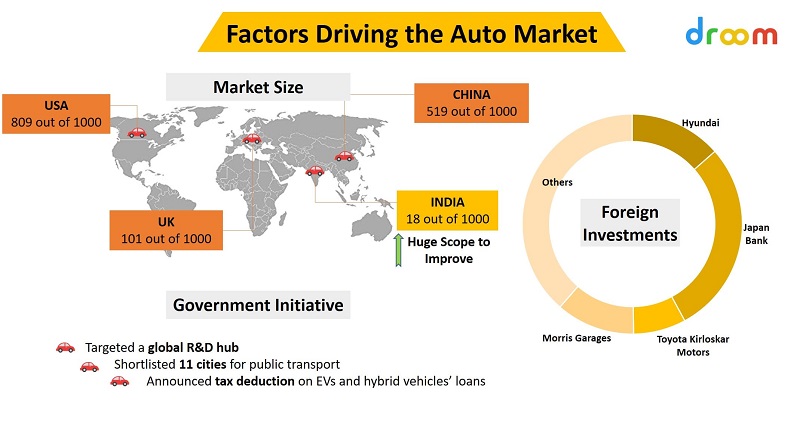 A close look at the Indian automotive industry reveals two primary aspects – the huge potential of the market and what factors can apprehend this potential in the next five years.
Let's see this in more detail:
1. Market Size
Right now, only 18 people per 1000 in India own vehicles which is a peanut in comparison to the USA, the UK, or China where the same figure is 809, 519, and 101 respectively. At the same time, the income curve of the country is also showing positive growth with the lower-middle-class plummeting from 460 million to 290 million. The purchasing power of the middleclass has increased remarkably. By the end of 2021, over 900 million people will come into the bracket of the middle class. As economic prosperity is quite visible across the demography, owning cars will no longer remain a luxury but a necessity. The future of diesel cars in India seems impressive so also the future of petrol and alternative fuels cars. The following figures are also quite optimistic:
Domestic automobile sales increased at 1.29% CAGR between FY2016- FY2020
Domestic automobile manufacturing increased at 2.36% CAGR between FY2016- FY2020
Passenger vehicle sales figure was 3,10,294 in Oct 2020 which was 2,71,737 in Oct 2019.
Sales of the public vehicle in November 2020 were 4.17% more than the sales figure of Nov 2019.
Two-wheelers currently hold a 12.9% market share in the automobile sector.
Another interesting news coming up is that the electronic vehicle, considered the future of the automotive industry, is life likely to grow at 44% CAGR between FY2020- FY2027.
2. Investments
Realizing the mind-blowing potential of the Indian market, several automakers have increased their investments in India while several companies have been planning to start marketing in the country. Ford, GM, Mercedes Benz, ISUZU, MAN, Piaggio, Scania, Volkswagen, Volvo, BMW, Fiat, Hyundai, Nissan, Renault, Toyota, and Suzuki will be the prime investors in coming years. Investments will be quite satisfactory, as such the future of petrol cars in India is quite bright. They will bring billions of FDIs creating more manufacturing units and jobs in India.
Hyundai motors invested Rs.3500 crore in India in FY2019- FY2020
Japan Bank for International Corporation mobilized funding of Rs. 7400 crores in FY 2020 to SBI for funding the Japan-based automotive manufacturers in India and providing auto loans for buying Japanese cars.
Toyota Kirloskar Motors is going to invest Rs. 2000 crores in FY2020- FY2021 for manufacturing electric components for automobiles.
Morris Garages, a British automobile manufacturer has been planning to invest Rs. 3000 crores in India.
So, investments are pouring out from different parts of the world. Even, several announcements have been made for investments in electric vehicle manufacturing and marketing.
3. Government Initiatives
The Government of India and State Governments have been encouraging FDIs and tax rebates for domestic brands willing to establish more units in India. The target of the Government of India is to make this country the major automobile hub of the world. Besides, the following steps from the Government are worth mentioning:
The government of India has been targeting a global R&D hub for the automotive industry in India.
The Ministry of Heavy Industry has shortlisted 11 cities for introducing public transport under the Faster Adoption and Manufacturing of Electric Vehicles scheme.
In the union budget 2019-20, the Government has announced tax deduction measures on loans for EVs and hybrid vehicles.
Where is India's favoritism heading in terms of fuel type?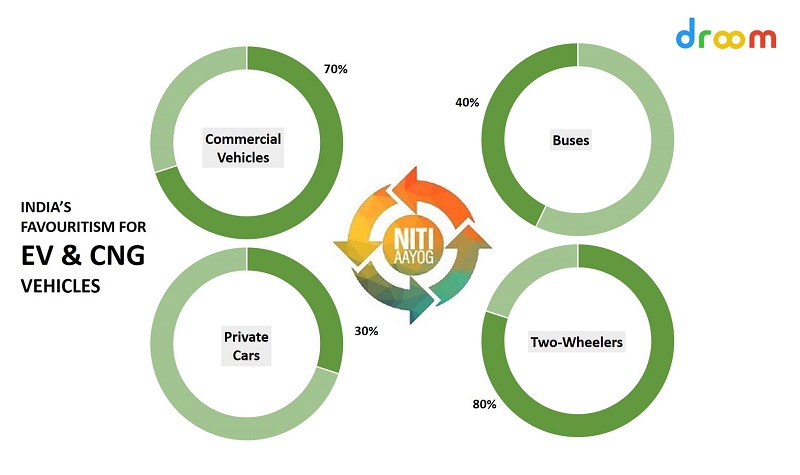 Needless to say, not just India but the whole world is eager to shift to an alternative mode of transportations. As such, electric vehicles (EVs) are the future of private and public transportation. Though there is no official announcement in this respect, NITI Aayog has shown an aspiration of turning 70% of all commercial vehicles, 40% of buses, 30% of private cars, and 80% of two-wheelers into CNG and EVs. However, meeting this aspiration would be possible if an investment of Rs. 12,50,000 crores are made in the manufacturing and charging ecosystem. As a whole, the future of electric vehicles in India is quite bright.
Expected penetration of CNG and battery-electric-vehicle in India
The expected penetration in private two-wheelers and four-wheelers is 10%-15% and 20%-30% in public transports by 2030 considering the current infrastructural development and projected investments in manufacturing and marketing of CNG and battery-electric vehicles in India. But, the Government of India has taken specific strategies in this sector that includes more investments, tax rebates to manufacturers, lower interest rates against loans for EVs, easy loans to allied industries like battery and electric parts manufacturing industries.
Difficulties with CNG and electric vehicles
In alternative fuels, the debate is on CNG vs Electric vehicles? Problems are multifarious but can be overcome with the right strategy and consistency:
Very difficult to drive on hilly areas as it does not have the capacity to pull the car at the higher altitude and rugged roads
High prices are the main hindrance in this sector
Underdeveloped charging ecosystem is another major concern for EV and CNG vehicle owners
Technology needs more upliftment to attract the broader spectrum of the market
Insufficient supply accessories especially batteries
Limited options in terms of models and features
The focus should be kept on the automotive industry growth factors for speedy growth of the CNG and electric vehicles market.
Expansion possibility of fuel cars irrespective of price hike
Irrespective of fuel price hike, the market of petrol and diesel vehicle showing optimistic figures. There could be temporary setbacks from time to time due to oil prices effect on auto industry, but the trend of increasing demand will continue in the coming days. People have more disposable income now. Moreover, Government machinery dedicated to this sector is mobilizing more money for easy loans to the customers, tax rebates to manufacturers in different ways, and more emphasis on manufacturing accessories including electrical and electronic parts essential for the automotive industry. There is much more than money and its costing part as on mountain areas only diesel vehicles can perform the best and even for rural areas the petrol and diesel vehicle can only be prominent at least for one more decade due to scarcity of charging stations and other facilities for the alternative type vehicles.
Conclusion
The future of the automotive industry is quite bright. The market of petrol and diesel vehicles has been expanding showing steady growth over the past few years, on the other hand, the Government has been taking various measures to introduce EVs, Hybrid vehicles, and CNG vehicles in greater numbers. With more FDIs, the supply of technologically advanced vehicles catering to the needs of new generations of consumers will be possible.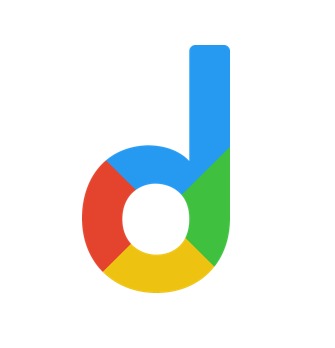 Droom is an automobile e-commerce platform offering a 21st-century automotive buying experience online with its four value pillars including trust, selection, low price, and convenience second to none. It offers 250k+ vehicles online in 1,100 cities — both used and new. Droom deals in buying and selling cars, 2-wheelers, and other vehicles too. It is an AI and data science-driven platform designed with the best ecosystem tools. Here, we have a team of auto-experts and auto enthusiasts who are dedicated to covering every sphere of the auto industry by simplifying the procedure of buying and selling with Unified Droom Experience. To know more, click here.