Besides sanitizing ourselves, sanitize everything we use outside including our cars and bikes. If you are a hatchback car owner, you need to pay special attention to car interior sanitization since the car accommodates luggage in the same interior where passengers sit.
Visualize your car and think where you have put your luggage and so many other things for so many days. You will soon be able to relocate and even imagine the number of viruses you can been carrying along with you for so long.
So, what is the solution right now? Don't worry. You can ask for hatchback cars sanitization services online for deep cleaning and implement germ protection for cars.
Why do you need hatchback car sanitization services?
Your car is the breeding ground of more than six hundred types of microbes like viruses, bacteria, and fungi. You keep your car fully sanitized so that no untreatable contagious disease spreads through it. Experienced washing and hatchback car sanitization services know the titbits of the deep cleaning and sanitization. That is why you should call an expert sanitizing service.
Checklist for Washing, Cleaning, and Sanitization of Hatchback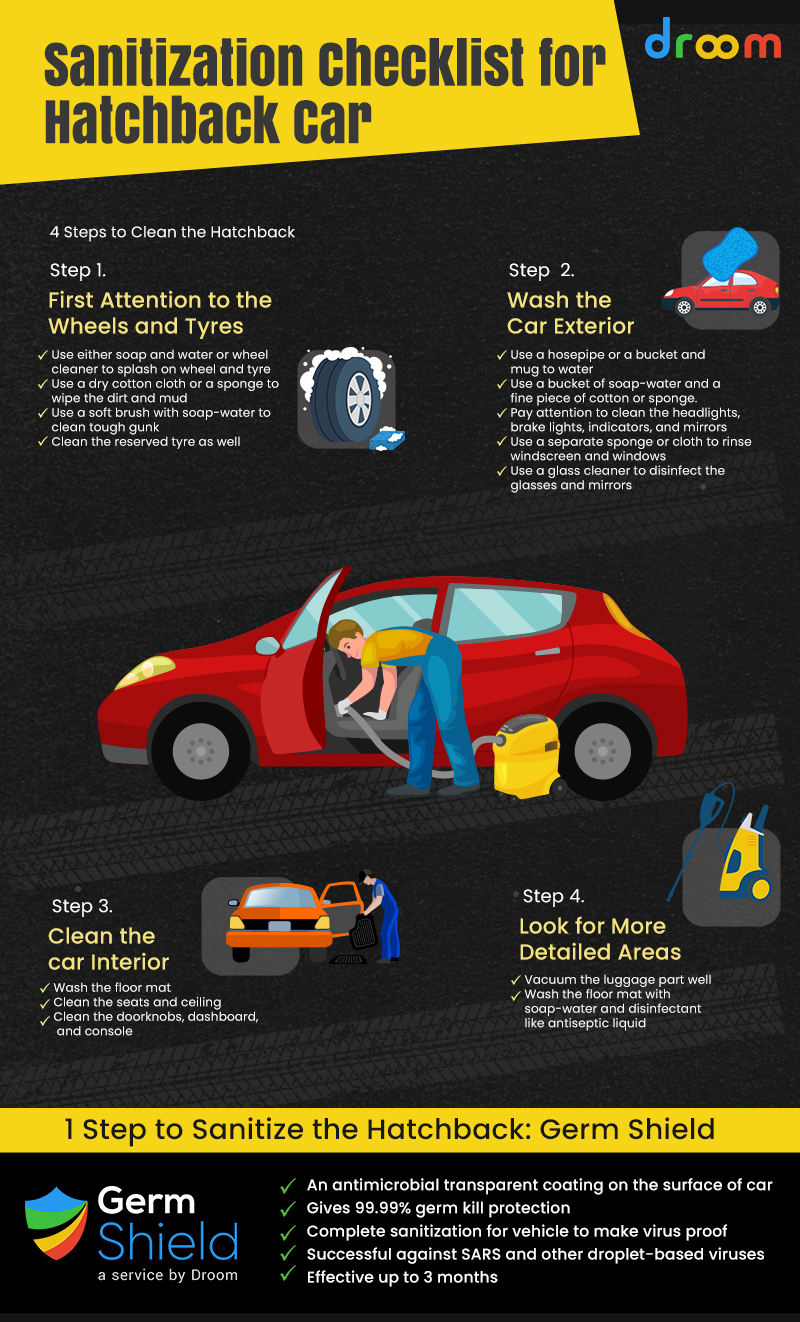 While washing your car, the primary aim should be to get rid of dirt and sticky junk from every visible and invisible parts without causing any scratch on the body or damaging any delicate part of the car. Weekly washes and cautious drying is the best care for your car but improper techniques can cause swirls and scratches.
Step 1: First attention to the wheels and tyres:
Use either soap and water and splash all over a wheel and tyre or use a wheel cleaner to wash
Use a dry cotton cloth or a sponge to wipe the dirt and mud
Use a soft brush with soap-water to clean elements like tough gunk on the wheel and dry soil on the tyres
Follow the same process for all the four tyres
Clean the reserved tyre if needed
Step 2: Wash the car exterior:
Use a hosepipe or a bucket and mug to water the entire exterior of the car
Use a bucket of soap-water and a fine piece of cotton or sponge to wash the body
Use either a running water source or a buck with clean water to wash the sponge each time you wipe a part of the car
Pay special attention while cleaning the headlights, brake lights, indicators, and mirrors
Use a separate sponge or cloth to rinse windscreen and windows
Use a branded glass cleaner to disinfect the glasses and mirrors
Step 3: Clean the car interior:
Wash the floor mat
Remove the floor mat and shake it well to let the dirt and dust fall on the ground
Need to brush to clean tough soil and dirt that may cling between the indentations
Splash water with a mug to remove the remaining dirt or mud
Clean the seats and ceiling
Vacuum the seats through and through
Use a duster like a piece of cloth to wipe smoothly, if it is made of leather
Pay special attention to the headrests
Clean the doorknobs, dashboard, and console
Use a dry piece of cotton to dust the doorknobs, dashboard, and console
Apply a cleaner now to clean every bit of the doorknobs, dashboard, and console– Remember this is where the riskiest part of the car where microbes form clusters silently. Thus, it should be cleaned with cleaner and disinfectant
Step 4: Look for More Detailed Areas:
Vacuum the luggage part well – Don't leave any corner untouched
Wash the floor mat with soap-water and a little bit of disinfectant like antiseptic liquid, we use at home
Germ Shield for Hatchback Cars
To ensure the fact that your hatchback is germ-free or virus-free, you need to focus on sanitization and disinfection. For that, you need Germ Shield, as it is a proven germ protection process for all types of cars and bikes. Germ Shield is an antimicrobial invisible coating on every part of your car killing harmful microbes like SARS and other droplet-based viruses, up to 99.99%. This can be the best germ protection for cars and bikes, as the coating remains active for 90 days.
They may be many other sanitization and disinfection services for vehicles as well, which will demand to sanitize your vehicle within no time and even it may be much cheaper. But those will either last for 48 hours or max 10 days and there is no guarantee how much RLU level will lower down. But, hatchback car sanitization services under Germ Shield guaranteed to last for next 90 days and swab test will be conducted before and after the service provided.
So, think before you take the decision! Do not get confused between copper and gold, just because they both glitters.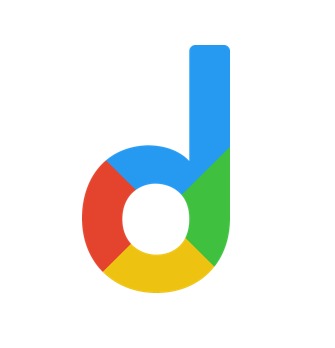 Droom is an automobile e-commerce platform offering a 21st-century automotive buying experience online with its four value pillars including trust, selection, low price, and convenience second to none. It offers 250k+ vehicles online in 1,100 cities — both used and new. Droom deals in buying and selling cars, 2-wheelers, and other vehicles too. It is an AI and data science-driven platform designed with the best ecosystem tools. Here, we have a team of auto-experts and auto enthusiasts who are dedicated to covering every sphere of the auto industry by simplifying the procedure of buying and selling with Unified Droom Experience. To know more, click here.