Just washing with gushing water or forcing mugs of water on the wheels is not enough for your bike or super bike. In this tough time, when sanitization of everything, we can't afford to only clean our vehicles. We use hand sanitizer or dry hand wash gel daily or regularly with so much priority, then why not you invest some time for your bike to make it actually clean and sanitize. Virus protection for super bikes and bikes need some expert intervention. This means you can do it yourself, if you know how to keep a bike germ-free or book a bike sanitization service online for advanced level cleaning and sanitization.
When we say most advanced level sanitization process, we actually mean it. It is very easy to get confuse with the level of sanitization for anyone. Some sanitization service will last for 24 hours, some for 7 days and some for 3 months. The sanitization service that gives you assurance for the longest time and guarantee you of no germ multiplication on the sanitized surface are the best services. Also, make sure whether the sanitization service offers with antimicrobial shield treatment like Germ Shield.
Bike and Super bike Sanitization Checklist: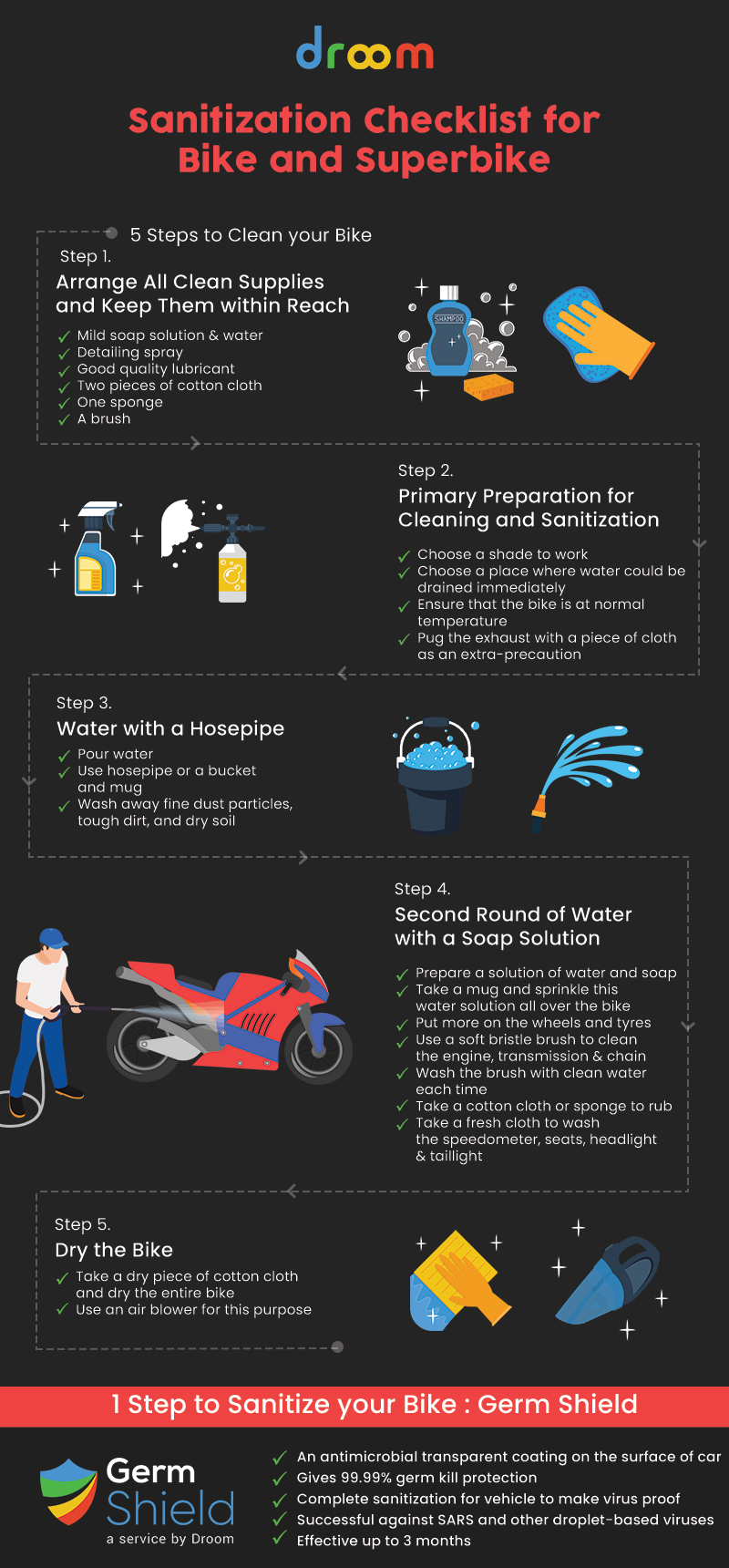 Knowing how to clean and sanitize a bike thoroughly will save your time and energy. Let's have a look at the following steps:
Step 1: Arrange All Clean Supplies and Keep Them within Reach
Apart from a very common mild soap solution and sufficient source of water, you need a detailing spray, some lubricant of good quality, two pieces of cotton cloth, one sponge, and a brush. These are only for bike cleaning. But, for a deep sanitization, you need Antimicrobial coating for super bikes.
Step 2: Primary Preparation for Cleaning and Sanitization
Choose a shade to work since it's a matter of 1-2 hours and direct sunlight can dry the soap-water faster which is not desired
Choose a place where water could be drained immediately
Ensure that the bike is at normal temperature
Pug the exhaust with a piece of cloth as an extra-precaution – it is not mandatory still some mud and greasy dirt can enter with water in the exhaust pipe
Step 3: Water with a Hosepipe
Pour water everywhere, if possible, with a hosepipe
In absence of a hosepipe you can use a bucket and mug but through the water with force
It primarily washes away fine dust particles, the outer layer of tough dirt, and dry soil that hardens with time
This primary watering reduces the chance of any scratch out of gunk when you later use cloth or sponge to rub the painted areas or seats.
Step 4: Second Round of Water but this Time with a Soap Solution
Prepare a solution of water and soap. Liquid soap works the best. If not available, then add 2-3 pouch of any shampoo and a small quantity of detergent in a bucket full of water (10 liters).
Take a mug and sprinkle this water solution all over the bike. Take time to do this since it is going to clear all kinds of dirt and most of the microbes
Ensure that the wheels and tyres get enough of this solution
Use a soft bristle brush to clean the engine, transmission, and chain
Wash the brush with clean water each time it gets the gunk out of the above-mentioned parts
Take a cotton cloth or sponge to rub and wash the other parts of the bike
Take a fresh cloth to wash the speedometer, seats, headlight, tail light, and all indicators
Step 5: Dry the Bike
This is the last step of your bike or super bike sanitization and cleaning. Take a dry piece of cotton cloth and dry the entire bike. You can also use an air blower for this purpose. A lot of bike owners take a rather funny process; they go for a short ride in the neighborhood to dry the bike. This can dry the machine parts rather fast.
Germ Shield for Bikes:
Germ Shield for two wheelers and cars is an antimicrobial coating on the surface for killing all kinds of harmful microbes including highly contagious viruses, fungi, and bacteria. Germ Shield is a 99.99% germ kill protection and it lasts for 90 days. This antimicrobial shield will not allow the germs and viruses to survive and even stop the growth of any microbe on the sanitized surface of your bike or super bike for 3 months. Hence, it keeps the two-wheeler and you safe from all kinds of contagious diseases.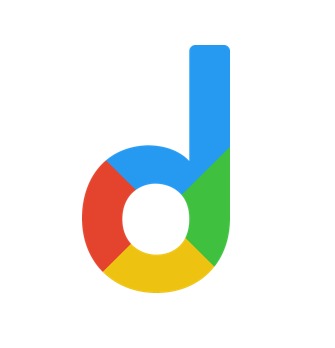 Droom is an automobile e-commerce platform offering a 21st-century automotive buying experience online with its four value pillars including trust, selection, low price, and convenience second to none. It offers 250k+ vehicles online in 1,100 cities — both used and new. Droom deals in buying and selling cars, 2-wheelers, and other vehicles too. It is an AI and data science-driven platform designed with the best ecosystem tools. Here, we have a team of auto-experts and auto enthusiasts who are dedicated to covering every sphere of the auto industry by simplifying the procedure of buying and selling with Unified Droom Experience. To know more, click here.