The second edition of the year 2022 of Rendezvous with Sandeep Aggarwal is back with an even more engaging and captivating topic to interact with students, professionals, budding entrepreneurs, and anyone willing to know about the tips and tricks to run successful new-age companies. In this edition of rendezvous, Sandeep Aggarwal the serial entrepreneur & founder of 2 unicorns will talk about the most buzzing topic "Entrepreneurial Opportunities in Web 3.0".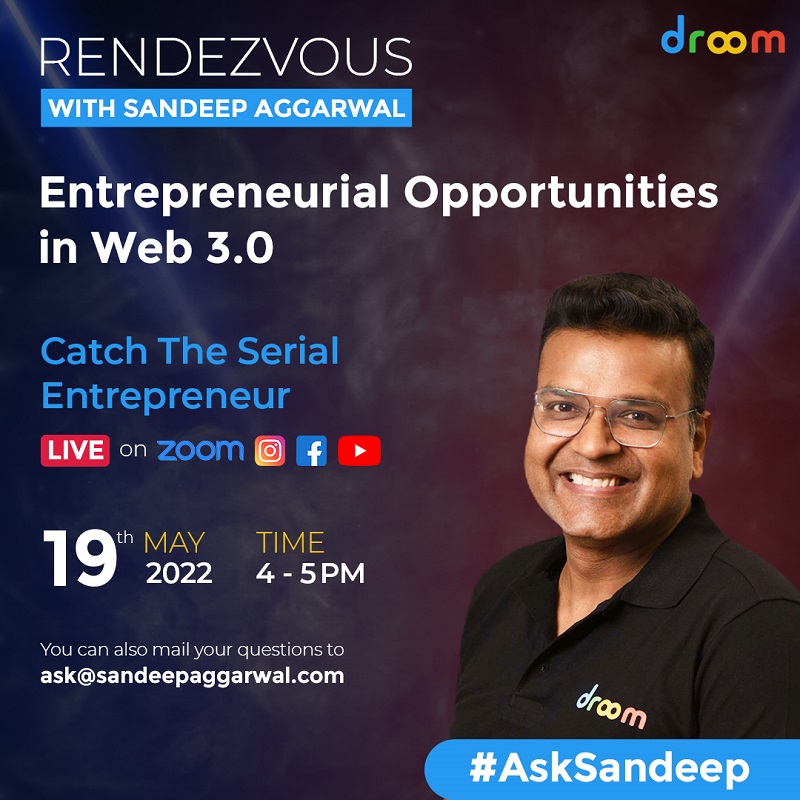 This event brings an exclusive opportunity & an appropriate platform to learn more about forming and operating a successful start-up and the kind of revolution Web 3.0 will bring to the industries.
Sandeep Aggarwal is a well-known trendsetting tech entrepreneur in the country. He founded Shopclues in 2011 which became the fastest unicorn in the country at that point in time. And, he is currently the founder & CEO of another unicorn that is Droom – India's one of the pioneering automobile e-commerce platforms.
The success and growth achieved by Droom speak enough for its long-term approach and vision. As a pure-play automobile e-commerce company, Droom provides a platform for automobile buyers, sellers, and dealers to transact vehicles and avail of the benefits of associated services based on 21st century AI machine learning functionality.
"Entrepreneurial Opportunities in Web 3.0" with Sandeep Aggarwal
Get ready to put forth your questions and get professional actionable insights from Sandeep Aggarwal. We are all set to bring the serial entrepreneur live across social media channels along with an online streaming website.
The event will be LIVE-streamed on 19th May, Thursday, 4 PM-5 PM, across Zoom, Instagram, Facebook, and Youtube. You can put across your questions on any platform during live streaming or or you can also e-mail your questions at ask@sandeepaggarwal.com.