Rendezvous with Sandeep Aggarwal is back for its 2021 edition. The event brings a special opportunity for students, professionals, budding entrepreneurs, and anyone looking to get a precise set of questions/queries, pertaining to the world of Start-up, answered by the maverick entrepreneur – Sandeep Aggarwal, Unicorn Founder.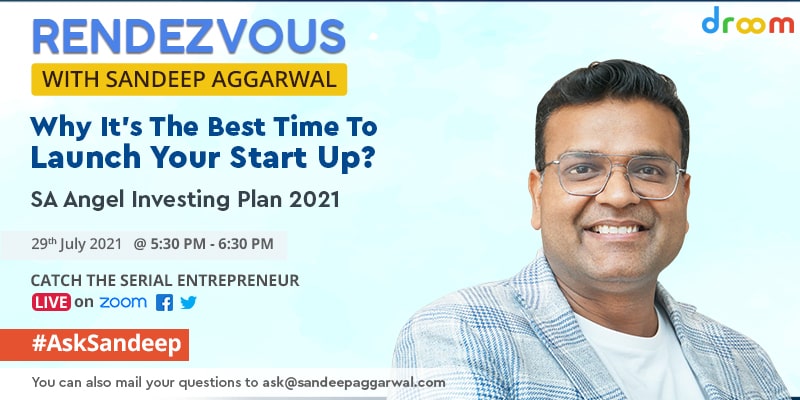 Sandeep Aggarwal is no novice to the start-up world. A pioneer of India's start-up ecosystem, he founded Shopclues, way back in 2011, when e-commerce was still in its nascent phase in the country. Currently, he is, busy, transforming the online automobile sphere with his vision and hard work as Droom CEO.
Droom, India's leading online automobile marketplace, is a brainchild of Sandeep Aggarwal. The success and growth achieved by Droom are a testimony of his vision and foresight. Today, the company is defining the used vehicle buying/selling journey with sophisticated tech integration.
The topic of discussion for this year's edition is "Why it's the Best Time to Launch your Start-up?" along with Sandeep Aggarwal's Angel Investing Plan 2021.
So, if you are wondering how to make the best out of this pandemic to launch your start-up, get on board as we bring the maverick entrepreneur live across social media channels and an online streaming website.
The event will be LIVE-streamed on 29th July, Thursday, 5:30 pm- 6:30 pm, across Zoom, Facebook, and Twitter. You can put across your questions on Twitter by tagging #AskSandeep, be a part of the live stream on Facebook to ask Sandeep Aggarwal directly or you can also e-mail your questions at ask@sandeepaggarwal.com.