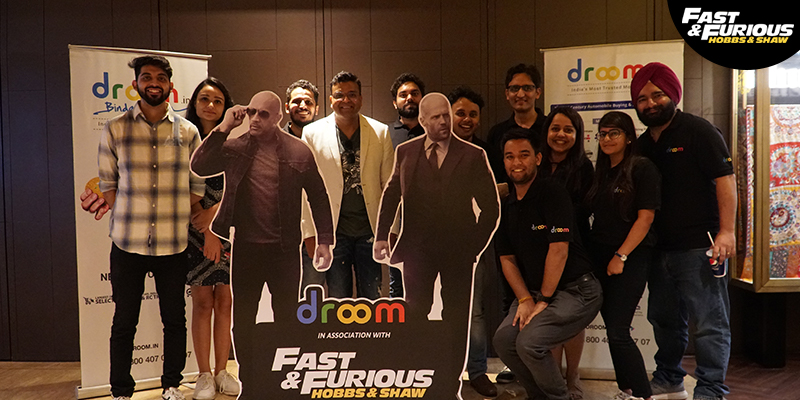 Droom partnered with one of the latest Fast and Furious installments – Hobbs and Shaw, in which the character of Luke Hobbs & Deckard Shaw come together to save the world. The association was celebrated by having a private screening of the movie at PVR Director's Cut at Ambience Mall, Vasant Kunj.
The next morning after its release, the Ambience Mall at Vasant Kunj witnessed a great footfall for the private screening held at PVR's Director Cut by Droom which is India's Most Trusted Motorplace.
Droom in association with "Fast & Furious- Hobbs & Shaw" held a private screening for the media houses, Droomers, social media influencers and many other renowned personalities. Some of the prominent media houses that covered the event were Economic Times, Times Now, PTI, Financial Express, I Diva, Men's World, etc.
Also, among the digital community world that was in the house were Little Black Book, Scoopwhoop, Men's World.
Some social media influencers who attended the screening were Preeti Hoon, Jeevika Sharma, Hemlata Yadav, Diksha Yadav, and some others too.
108 people gathered just before the show around 2.15 pm and they were offered with delicious butter popcorn and cold drinks to enhance their fun of watching the movie.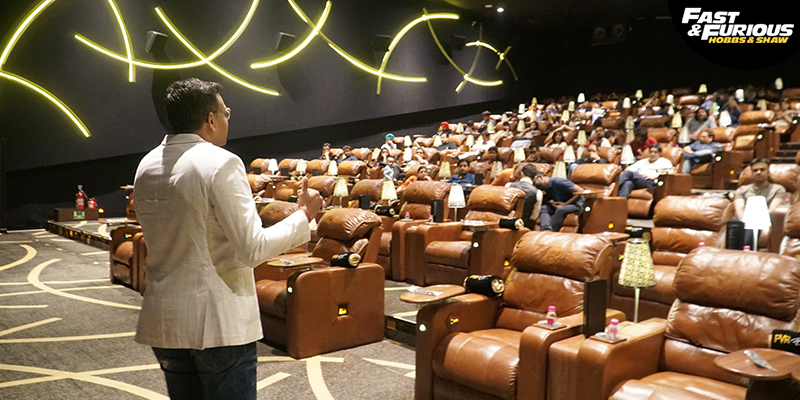 Droom's CEO Mr. Sandeep Aggarwal welcomed all the attendees in the house and mentioned how the movie was close to the hearts of what Droom does.
In his own words- " The way in the Fast and Furious movie, Luke and Hobbs rely on their vehicles for quick getaways and high speed chase, in the similar fashion Droom trusts its inspected used cars and its pricing engine, OBV that calculates the fair price of a used car".
In short, the movie resonates with the brand's image which is synonymous with glamour and adventure. The movie theatre came alive with some loud cheers during high speed chases and action scenes.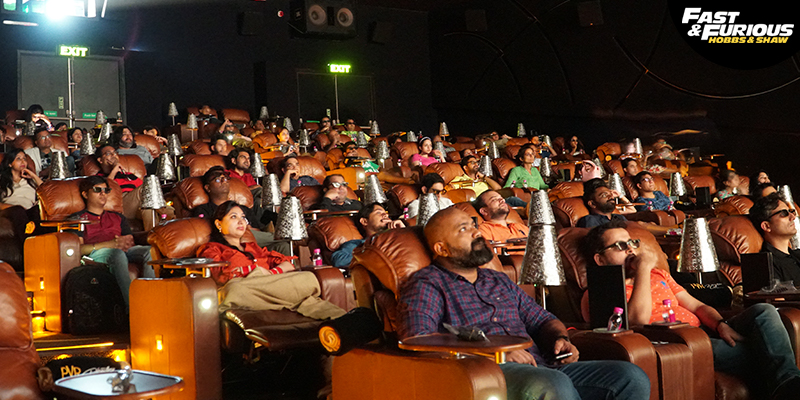 The movie was enjoyed by one and all. Throughout the movie, all eyes were on the screen and the audience was fully engrossed in the movie.
After witnessing 136 minutes of pure cinematic adventure, the audience got a surprise as they received a beautiful giveaway with Droom logo on it.
The cut-outs of the Droom partnership with "Fast and Furious Hobbs and Shaw" placed outside of the theatre served as a good photo companion.
Overall, the show turned out to be a good example of association celebration that helped the brand to gain online as well as offline traction.