Ever wished that you could get the wings and fly from one place to another. Certainly, you can not get the wings, but your dream of flying from place to place can now become a reality. Droom, India's first and largest marketplace for buying and selling automobiles, will soon be launching DroomFLY.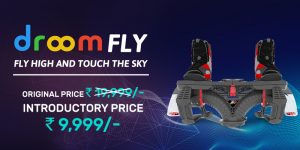 India's most advanced pair of hover shoes, DroomFLY will let you forget your traffic blues. Yes! You read that right. Droom FLY is a pair of comfy, safe and super stylish hover shoes that can fly up to an altitude of 1,000 feet at the top speed of 80km/h. The innovative power shoes feature self-balancing design, soft cushioning for extra comfort, fast-charging, and a battery life up to five hours. DroomFLY has been crafted with the highest level of safety, comfort and convenience.
What's more interesting is that you can use these shoes to travel from one to one another while ditching the traffic. Planning to buy these sassy pair of shoes that gives you a good enough reason and mean to fly? As an introductory offer, get DroomFLY for ₹9,999 only. Plus, if you book now, 100 early birds get extra discount of 25%. The stock is limited, so make a quick move to own these one-of-a-kind shoes now.
Visit droom.in for more details and get a chance to fly high with DroomFLY. Hurry!