Honda Activa has set the scooter world alive with its monumental rise in recent years. The scooter has become the highest selling two-wheeler in the country thanks to its combination of power and efficiency coupled with excellent after-sales service. Honda Activa has carved an important place in two-wheeler industry and has already written its legacy. The latest Honda Activa model which made its way into the market is the Honda Activa 4G. The Activa model is as dominant in the two-wheeler segment as the Dzire in the current four-wheeler market.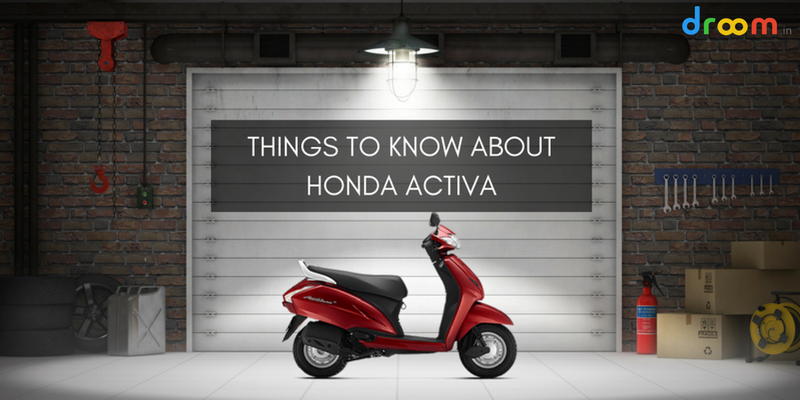 The success of 4G is expected to make way for 5G soon. The model regarding appearance has remained the same with emphasis on performance improvement. Such is the demand for Activa scooter models that it has one of the highest resale prices. Conservative styling with elegance is what people are seeking in today's time. Due to the incredible availability of new models, the demand for used Honda Activa has risen considerably. Activa 3G and 4G and older variants are available through sellers and across web portals. For instance, Droom has around 1498 Honda Activa scooter models.
Used Honda Activa is in-demand throughout the country because of the exceptional build-quality and after-sales service. The edgy scooter model boasts an analogue instrument cluster which houses speedometer, odometer and fuel gauge. On the exterior, the model is dominated by a tail lamp flanked by turn indicators.
Used Honda Activa includes specifications of a 4G model which comes with a 109cc air-cooled single cylinder engine which produces 8bhp and 9Nm of torque. The new model comes with the Honda Eco Technology which aims at maximising efficiency without giving up on performance. Mileage is one of the major reasons why people opt for a used Honda Activa. The model comes in seven paint schemes including Red, Grey, Blue, White, Brown and Silver.
As for safety, the Honda Activa 4G features trailing link suspension at front and monoshock at the rear. Regarding braking system, it gets 1300mm drum brakes both at the front and rear end. The combi braking system is offered as a standard feature. It helps the model to activate the front brake automatically once the rear brake is pressed.
Honda Activa 4G is the active model which is priced between INR 60,000 to 65,000 considering price after GST. However, if you are looking to buy used Honda Activa scooters, then you have thousands of options wherein you can get the bike for a price as low as INR 35,000. The pricing of a used Honda Activa depends upon the model year, variant and the condition of the scooter.