The utmost ease to sell vehicle online can now be found on Droom. Be it any restriction, issue, or doubt, it is being successfully addressed and managed by Droom.
If you are a seller and looking forward to selling your vehicle quickly and in a hassle-free process, then this article is for you!
The moment you land over to Droom website, you will get a highlighted message reflecting "Sell on Droom". This message is enough to let you know that you are on the right spot with the right intentions and lead you the path – sell vehicle on Droom.
If you have the query of 'how to sell my used car online' or 'how to sell a new car online', the answer is here at Droom. Droom offers two types of selling facilities- one is for Individual Seller and another for Pro-Seller. You need to decide in which category you belong to. But, how will you do that? An Individual Account is for those sellers who want to sell online just one vehicle or may be a few vehicles. Whereas, a Pro-Seller Account is for those who want to sell multiple vehicles such as dealers and companies who want to sell online.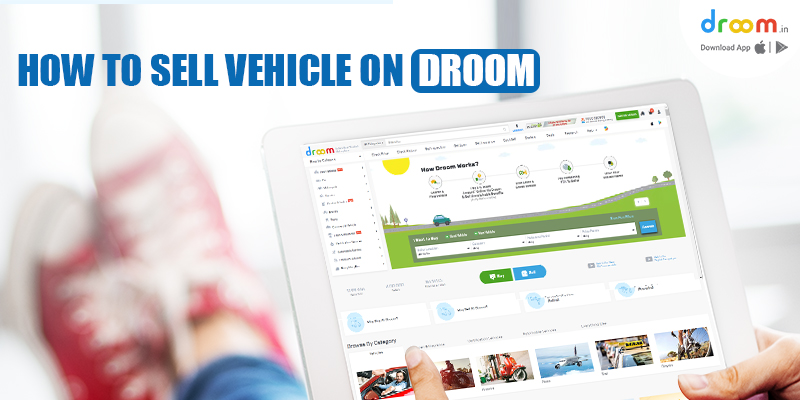 If you are an Individual Seller, you will get two selling formats in Droom for seller- one is QuickSell and the other is Regular format.
QuickSell:
As the name suggests, through QuickSell, you will be able to sell used vehicle on Droom very quickly. QuickSell is an auction-based highly efficient trading platform that allows to sell your vehicle within one week. You will be the luckiest person as you will be able to:
Sell your second hand vehicle from the comfort of your home or work
Reach nearly 3 lakhs serious, eager and certified dealers who want to buy
Get your vehicle certified by ECO system, which is independent, objective and unbiased
Know the benchmark price from India's most trusted pricing engine- Orange Book Value or OBV
Get paid what buyer is willing to pay with non-middleman margin
Enjoy transparent and respectful experience
Need not worry about RTO or post transaction
The process that will be followed to sell your vehicle through QuickSell is:
Step 1– Provide basic info by filling the form, get vehicle inspection at doorstep at your preferred time and fix the selling price of your vehicle
Step 2– Get the pricing, history and condition report after vehicle inspection and your listing goes live for verified auto dealers
Step 3– Get three chances to run live auctions and watch verified customers to bid on real time
Step 4– Choose the highest bidder and get the payment
Regular Format:
If you are not eager to opt for QuickSell, you can jump to the next option which is the regular format of listing your vehicle with Droom. You need to fill the basic info of your vehicle that includes:
Category of the vehicle
Make
Model
Year of purchase
Trim
And, you are done with the listing. It is the most trustworthy and transparent mode of vehicle listings as it showcases the in-depth knowledge about your vehicle to the seller, highlighting all the key features and specifications.
These selling facilities are not only for cars, but it will also be true when you even sell used bike or second hand bike.
Pro-Seller:
If you are a dealer or a company, who wants to sell new or used vehicles online, then you should opt for the Pro-Seller Account.
Droom for seller advantages are:
Opportunity to sell second hand car or new car in India's largest auto platform online
Able to reach over 45 million shoppers each month, which is 5 times higher than any other platform
No fee payment for listing
No fee for setup
No limit on listings
Pay a nominal amount once when the vehicle is sold
Get dealer financing
Prospect to use advanced tools for pricing, history, and full circle trust score
Get your own online showroom
Build trust and credibility with seller score, verification and Droom ratings to experience better offers
Avail everything online, anytime, anywhere using any devices
The process to sell vehicle online as a Pro-Seller or 'Droom for Dealers' process is:
Step 1– Seller registers and creates the listing, so that, the vehicle goes live on the website
Step 2– If buyer chooses your vehicle, pays 3% token amount in the form of commitment to Droom and the vehicle gets invisible from the listing
Step 3– Buyer and seller meet and seller gets the rest 97% payment of the vehicle
Step 4– The transaction gets completed and the keys are handed over to buyer
Step 5– Droom pays out token amount to the seller after deducting the nominal selling service fee
The best part is even if a seller gets confused and lost the track, Droom Assist is there to assist each seller to reach to their destination.
Droom Assist:
It is India's largest automobile buying and selling assistance, that gives the most trusted automobile aid on your fingertips, by providing solutions from auto experts.
So, next time if you face any issue regarding selling or buying your vehicle, remember Droom Assist is always there for you.