Are you willing to sell used car and buy a new one? Then first you need to know what all factors or checklist you need to follow.
List Your Vehicle to Get Offers
What is the best mode of selling – online or offline?
How to get the best price of a used car?
What will be the procedure to sell my car as an individual seller?
What will be the procedure of selling vehicle for a dealer?
What is the fastest way of selling a vehicle in India?
Let's discuss each of these questions one by one: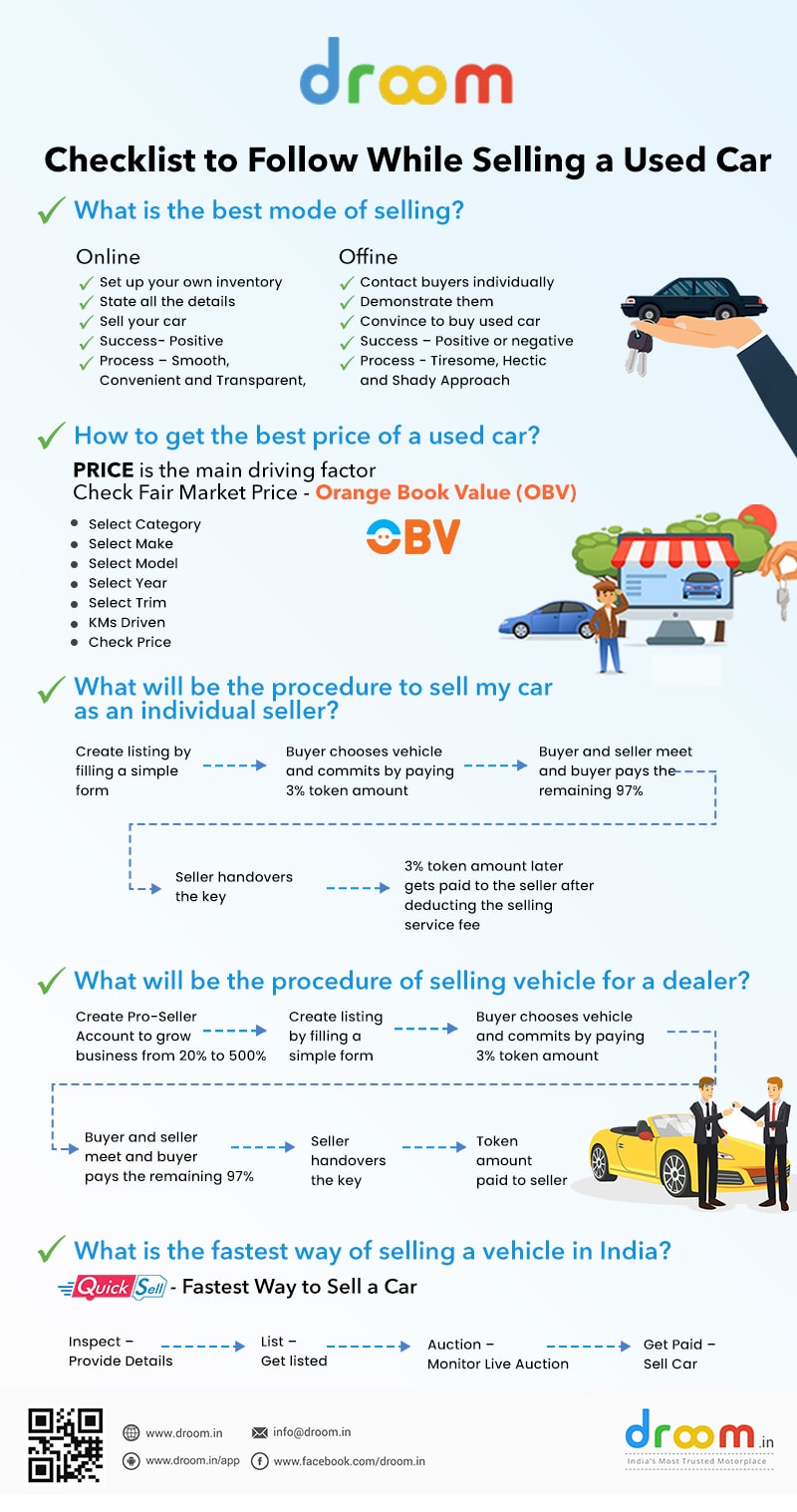 1. What is the best mode of selling used car – online or offline?
When it comes to used car selling, you will not be able to set up any showroom to sell second hand car. You will contact with the buyers individually, demonstrate them and convince to buy used car. This may work or may not, plus this process can be tiresome, hectic and have a shady approach.
However, when it comes to online, process is much streamlined. You as a seller will be able to set up your own inventory, state all the details of the used car and keep an eye on that inventory anytime and everytime. It is transparent, smooth and much more convenient. So, the best mode is to sell used car online.
Droom is your destination. Droom is India's first and largest marketplace for buying and selling used and new automobiles. If you want to expand your used or new bike or car selling business, then Droom offers the most advance online platform for automobile. It is a self-service platform where you can quickly sell bikes, cars and scooters 24×7 to over 1 million daily visitors on its website and mobile apps. It allows you to upload unlimited listings on its ecommerce platform for free.
2. How to get the best price of used car?
We all know that when a buyer decides to choose a pre-owned vehicle above a new one, the driving factor behind this decision is mainly the PRICE. The price of a used car is much lower than a new car and fits the buyers' pocket, so the popularity of second hand cars are increasing.
The days are gone when sellers used to quote any price for their used cars and cheat the buyers. Now, with the intervention of trustworthy platforms like Droom, selling my car online and determining the price of used cars is determined with the help of some tools like Orange Book Value (OBV). Whenever, a seller wants to sell used car online, he/she gets the option to check the accurate price of the car with the help of OBV. As per the details provided by you as a seller and the other details collected by the professionals while you list your used cars online, the price of the car is determined. OBV offers a price bracket for your car, which gives you a fair idea what should be your vehicle's price. But it is completely up to you whether you as a seller, whether you want to use the price tag within that bracket or not.
3. What will be the procedure to sell my car as an individual seller?
You may be an individual who wants to sell one or two pre-owned cars. For individual sellers, who wants to sell used car online is to create your listing on Droom by filling a simple form, then buyer chooses your vehicle and commits for it by paying 3% token amount, followed by meeting of buyer and seller and buyer pays the remaining 97%. This completes the transaction and the seller handovers the keys. That 3% token amount later gets paid to the seller after deducting the selling service fee.
4. What will be the procedure of selling Car for a dealer?
A pro-seller account is used by auto dealers, brokers, resellers, or auto manufacturers to sell their cars. The main benefit of pro seller account is that you can reach out to more than 45 million potential buyers in just a span of one month. Also, there is no fee for the listing and neither there is a limit on the number of listing you can post in your account. With the help of the pro-seller account, a dealer can sell old car faster and with more convenience.
With a premium account, a dealer gets the benefit of advanced analytics that inform the dealer of various metrics and factors that helps dealers to analyze their local listings. With Pro-Seller Business account, you can access Enterprise Dashboard, Transfer Miles to Dealers, Manage Dealer Network, Enterprise Showroom, Account Management.
However, merely setting up a pro-seller account is not enough. Not all dealers can be a good online seller. If you want to become a good dealer, then here are some tips for the dealer that will help him to boost his sales:
Offer on both pricing formats – fixed price, best – selling which would increase your chance to sell used car
Upload at least 6 HD images of a car that must include interior, exterior, open bonnet. If possible, share a 1 Min video of car that give a good perspective of a car
Try and fill as many trust factors as possible to build higher trust for potential buyers
Offer listing certification package which includes premium reports for orange book value, Eco inspection, and Droom History
Close transaction as soon as possible after the commitment fee (token amount) has been paid
Accurately fill all the important details of a vehicle that would build trust among potential buyers
Also, the dealer should price a used vehicle competitively which raises the probability of a vehicle being sold
To gain the trust of buyers, a dealer should become a verified seller
5. What is the fastest way of selling a Car in India?
If you want to sell second hand car instantly, in that case you will opt for QuickSell option. This is the most effortless selling option, where you can list your car instantly and reach up to 3 lakhs certified auto dealers and sell second hand car with a few days through live online auction. This the fastest way to sell pre-owned cars.
This is magic of transaction of used vehicle through Droom, as you as a seller will never feel ashamed of showcasing your car to everyone and the buyer will never feel ashamed of buying a used car. A buyer will always get the 'new wali' feeling from a used car, because afterall its new for the new user.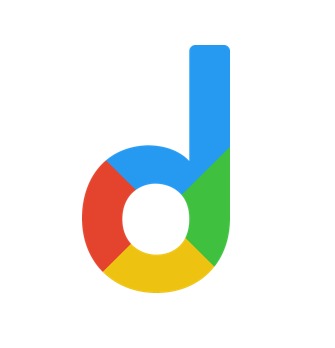 Droom is an automobile e-commerce platform offering a 21st-century automotive buying experience online with its four value pillars including trust, selection, low price, and convenience second to none. It offers 250k+ vehicles online in 1,100 cities — both used and new. Droom deals in buying and selling cars, 2-wheelers, and other vehicles too. It is an AI and data science-driven platform designed with the best ecosystem tools. Here, we have a team of auto-experts and auto enthusiasts who are dedicated to covering every sphere of the auto industry by simplifying the procedure of buying and selling with Unified Droom Experience. To know more, click here.