Feel proud – you are now the owner of one of the best scooters running on the Indian road. Honda Activa is the most popular pre-owned scooter in India.
Droom's Pre-owned Auto Award 2 ceremony took place at ITC Maurya on 20th December 2019. Representatives from all the major automotive brands were present in that gorgeous award distribution program. Chief guests included top brasses of the industry that made Droom's Pre-owned Auto Award 2 ceremony even more attractive to the audience. Honda Active was announced as the Buyer's Choice Pre-Owned Scooter of the Year.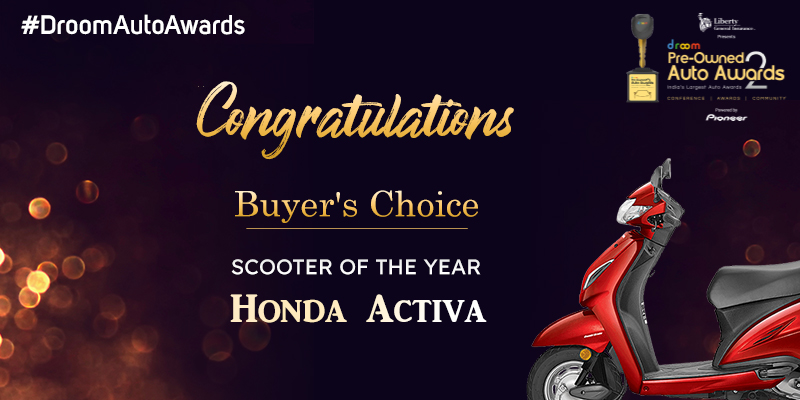 The vehicles chosen for the buyer's choice pre-owned scooter category had already run hundreds and thousands of miles on the road and might have undergone one or more transfer of ownerships. Still, these scooters owned the trust of Droom and respective owners.
The nominees in this category were as follows:
• TVS Jupiter
• Honda Activa
• Hero Pleasure
• Hero Maestro Edge
• Okinawa Praise
• Yamaha Fascino
• Hero Duet
• Okinawa Ridge 30
• Yamaha Alpha
• Aprilia Sr 150
It is evident that these are the names wooing the Indian scooter market for quite some time. However, Honda Activa was announced as the winner of the 'Pre-Owned Scooter of the year'.
Judgment Methodology
Droom announced the names of nominees and invited their recognized customers to vote for their favourite scooters. The voting line was kept open from 8th December to 16th December 2019. After that counting was begun and Honda active was found to have received the highest number of votes. So, the scooter was the popular choice and the winner of the award.
About Honda Activa
Honda Activa is a 109.19CC fan-cooled, 4 stroke scooter. It has both kick start and self-start systems. The scooter is equipped with 90/100-10 53J tubeless front tyres in both front and rear ends. The scooter has spring-loaded hydraulic type front and rear suspensions and 130 mm front and rear drum brakes. It is designed with a 5.3L fuel tank and runs 50-60 KM/L on the normal Indian roads.
Honda Activa is a true winner in every sense. Even if pre-owned, Buyer's Choice Pre-Owned Scooter of the Year always gives a smooth sailing driving experience.