Festive Season has already arrived! Now we are on the mid of Festive Season were Navratri has arrived and Eid and Diwali are on the way.
In this auspicious occasion of festival, when each and every person is excepting something new, Droom has come up with Diwali Dhamaka Offer 2020 – the largest offer on automobiles of all times is here!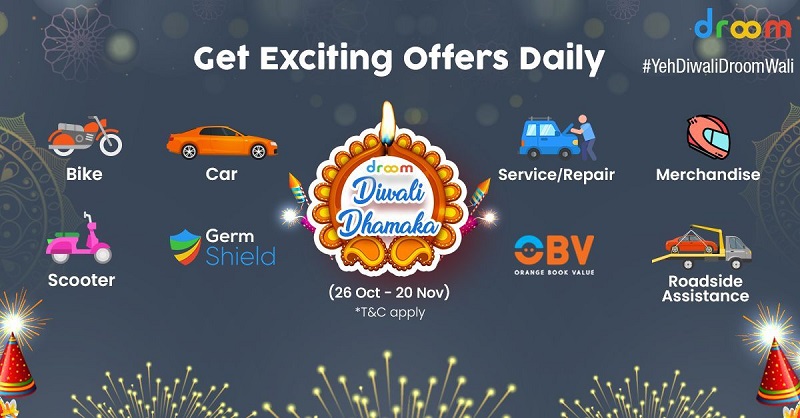 You will find amazing deals and offers in Droom Diwali Offer 2020, which will ultimately leave you in awe!
Let's start with merchandize:
Unbelievably! You will get each and every merchandize at Rs. 9 only.
Helmet that will save you from accidents as well as from traffic rules Rs. 100 fines, and whose actual price is Rs. 900, is now available at Droom at Rs. 9 only
Car Perfume that will protect you from bad odor and will also refresh your mood, and whose actual price is Rs. 250, is now available at Droom at Rs. 9 only
Sipper that will assist you to keep water handy, and whose actual price is Rs. 500 is now available at Rs. 9 only
Just remember one vital point, this deal will keep on changing every hour, so keep a track of the pricing to avail the deal at the lowest possible price- Rs. 9. But, you will get it for sure!
Let's come to the offers on car, bike, scooter both used and new -the main part of the deal:
Diwali offers on scooty 2020 –Get a chance to win scooters at Rs. 999 only
Diwali offers on bike 2020 –Win a bike at Rs. 999 only
Diwali offers on car 2020 – Great chance to win cars, 4 wheelers and 5-seater vehicles, such as Swift, Hyundai i10 or i20, at Rs. 9999 only
The best part is every day a lucky customer can enjoy Diwali offer 2020 on bike and scooty and under these offers you can get a two-wheeler at Rs. 999 only. Every week a lucky person can avail best car deals to get a car at Rs. 9999 only.
Amazing Diwali Dhamaka offer 2020 deals on pre-owned vehicles as well – up to 50K off and up to 50 lakh buyer safety. Mind-blowing deals on new vehicles – up to 20K cashback, exchange bonus, free accessories and many more.
This Diwali Offer is not only focused on automobiles only, as you will find many additional offers. This year pandemic has given birth to Germ Shield by Droom to keep you and your loved ones safeguard from all infection. Germ Shield where antimicrobial facility for automobile is available at Rs. 99 only and antimicrobial coating for home at Rs. 499 under Droom Diwali Dhamaka Offer 2020. Additional offers are car servicing services starting from Rs. 2499, roadside assistance at Rs. 99 for bike and scooter and Rs. 199 for car.
But you should not delay your actions as the Diwali Offer 2020, has already started from 26th October and it will continue till 20th November 2020. Mark your calendar the start and end dates of Droom Diwali Dhamaka Offer.
So, hurry up, visit Droom.in right now or download Droom app, to avail the amazing offers before the countdown gets over.