Premium as the name suggest is exclusive and one of a kind.These hatchback cars represents luxury and class.The body style has been popular enough and has attracted the exclusive market segment. Customers are confused with the varieties available in the market. So, we tried to answer this question by comparing different vehicles in this segment.
The nominations for the award category are:
Volkswagen Polo GT
Toyota Glanza
The winner of 'New Premium Hatchback of the year' is Volkswagen Polo GT.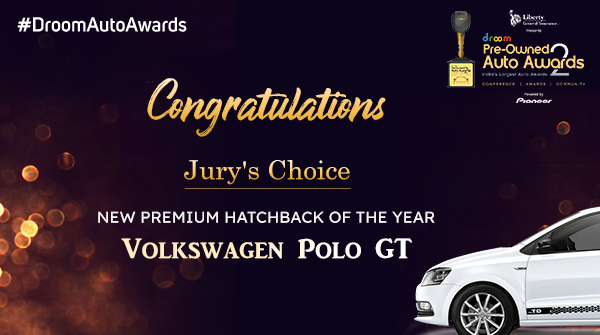 Judging Methodology
To have a rewarding experience and help the judging process go well, these guidelines are followed: As each component of the vehicle is judged, points are added as per the eligibility criteria. Ratings are documented on the score sheet to assist. Jury members are not under any influence of any motor vehicle brands. The vehicles selected were test driven on the tracks of Buddh International Circuit on Droom Track Day by the jury members and they rated the vehicles accordingly.
The winners were announced at Droom Pre-Owned Auto Awards 2, the grand event at ITC Maurya on 20th Dec.
About Volkswagen Polo GT
The Volkswagen Polo GT TSI is powered by a 1.2-litre four-cylinder, direct-injection turbocharged petrol motors that belts out a heavy 103bhp and 175Nm. It is mated with a seven-speed dual-clutch automatic transmission. And it has a surprisingly refined motor which barely vibrates. It's a free-revving engine and the power delivery is linear throughout. The engine revs all the way up to 6,000rpm however. On urban roads, the linear power delivery and sleek gearbox makes it easier to drive, while out on the highway, one can stretch quite comfortably.
Coming to the designing part, the Volkswagen Polo GT has the classier checkered pattern for the upholstery and there's also the whole new touchscreen infotainment system. The cabin is laid-out ergonomically and everything falls within your reach. The overall interior fit and finish and material quality is top class. In terms of safety the Polo GT gets ESP, ABS, speed alert system, dual front airbags, traction control, hill hold function, parking sensors and seat belt reminder among others.