Toyota Innova Crysta – The winner in Most Popular Vehicle category 'Jury's Choice Pre-Owned MPV of the Year'.
If you are a Toyota Innova Crysta owner feel good about it as your very own car model has been named as the Most Popular Vehicle of the Year by the esteemed Jury members of Droom Pre-Owned Auto Awards 2. The nominees for this category included:
Toyota Innova Crysta
Mahindra Marazzo
Despite facing heavy competition from Mahindra Marazzo, Toyota Innova Crysta emerged as the Most Popular Vehicle of the Year.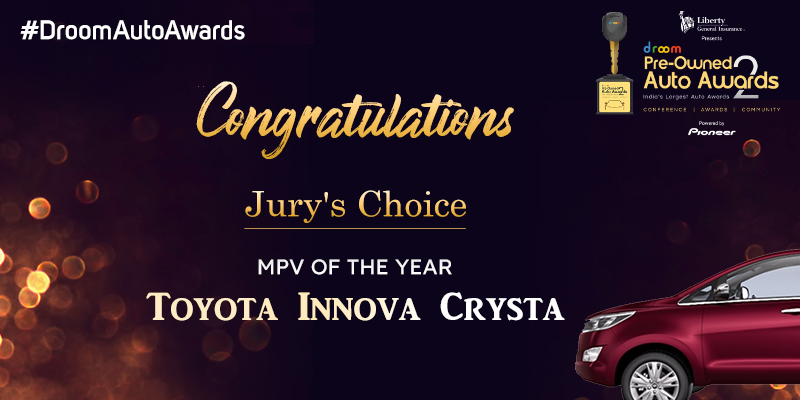 Judging Methodology
The jury members at this Year's Droom Track Day were some of the distinguished members of automobile industry experts. But, at the same time in order to retain the integrity of the awards, we ensured that none of the jury members had any association with any of automobile brands. All the vehicles were test driven and given scores accordingly. Based on these scores we named the winners. The final result and the winner was announced at Droom Pre-Owned Auto Awards 2, the grand event at ITC Maurya on 20th Dec.
About Toyota Innova Crysta
First impression of Toyota Innova Crysta will be of a heightened sense of luxury.The Innova Crysta finally got an automatic transmission but that is only available with the new 2.7-litre diesel that makes 171.5bhp of power and 360Nm of torque. The manual is mated to a new 2.4-litre engine that displaces 100cc less than the current motor but has an upgraded variable nozzle turbo, higher pressure common-rail to boost power by 50bhp, pilot injection for more silent operation, and thermal efficiency is 44 per cent which is claimed to be amongst the highest in the world in this class. With the all-black dash, high-quality kit and genuinely more accommodating seats, it gives you a feel of a luxury. The Innova Crysta definitely is a very silent vehicle. In fact, at a steady 120kmph, there's very little road and tyre noise; and very little engine noise too. With 148bhp and 343Nm of torque there's now enough power to keep up with all the other vehicles in this segment.. Now you know, which vehicle to choose, if you are looking for something that could fit in for your every needs.