Every motorbike rider is concerned about the sky-scraping fuel expenditure. Due to this traveling on bike has become expensive and bikers end up spending a lot of money on fuel. Everyone craves for the enhanced fuel efficiency on each road trip.
Moreover, when the entire world is concerned over the impending scarcity of fossil fuels, every citizen must take the responsibility.
On an average a motorcycle gives mileage of about 40-50 kilometers per liter. This average may vary depending upon the engine and fuel type. Below are some quick tips to improve the fuel efficiency of your motorcycle: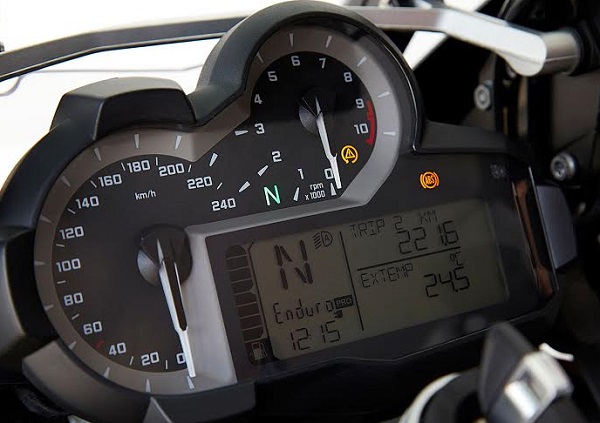 Avoid Aggressive Driving:
Try driving at a steady speed, avoiding those instant brakes and hasty accelerations. This affects the overall fuel efficiency, as it hampers the engine performance. Obey speed limit, try taking highway to avoid potholes, and refrain using jam-packed roads.
Watch Weight:
Don't put extra strain on the engine to enjoy higher fuel efficiency. Extra weight of cargo, crash guards, accessories, horns, and extra riders can over-stress the engine, leading to less mileage. So, there should not be more than two riders and load limited cargo on it.
Aerodynamics:
Resistance from the wind can be a serious drag on mileage per liter. Consider wearing a full-face helmet than others, as it is more aerodynamic friendly. Also consider wearing clothes that reduces your aerodynamics.
Keep Engine Clean
Get engine of the bike cleaned regularly for better fuel efficiency and reduced pollution. Frequently get the engine oil changed depending upon the type of fuel you use. Make sure that the engine doesn't have to brawl through the grease and grime to power your ride.
Tune It Regularly:
Get your bike regularly tuned to reduce fuel cost. Maintain a fuel consumption record and whenever there's depreciation of around 10% or more, get your bike tuned.
Inflate Tyres:
Maintain apt PSI pressure as defined by manufacturer to enjoy efficient fuel economy. Low air pressure increases the rolling resistance, reducing the economy, whereas, higher pressure results in increased wear and tear of tyres, resulting harsh ride quality. Change in temperature can also affect the air pressure, so it is recommended to get it check at least once a week.
Add Fuel Additives:
Add fuel additives or lubricants that can clean the dirty fuel injectors and reduce engine damage through wear and tear. This will improve upon mileage of the vehicle.
Follow these simple steps to enjoy a frugal ride.
You can buy a new or used motorcycle or car at droom.in with savings through hot automobile deals. Ride Safe!!