The millennials prefer the online way to buy whether it be a phone or a car. Online shopping is rage that has spread around the world.  This is not just limited to some hi-tech gadgets, but the car also has lacs of people have already transacted their car values through the online platforms.
Gone are those days, when used car sellers used to depend upon the local auto dealers to get a good price of their used car.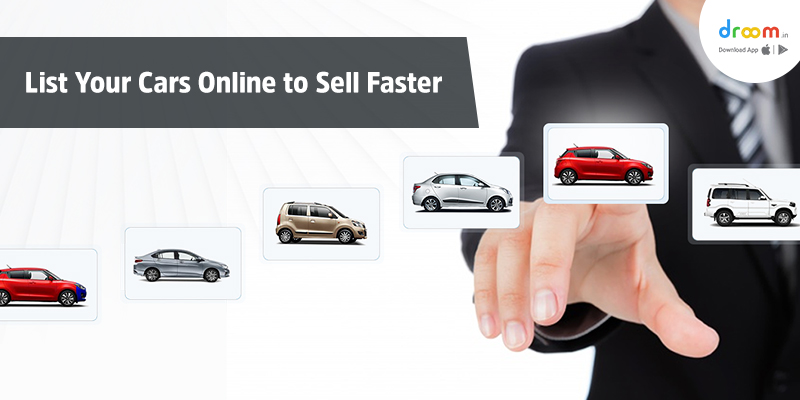 Selling a used car through auto dealers can be frustrating, cumbersome process. But not anymore as one can sell their used cars through online platform. All you have to do is to put out an add on Droom and get the attention of more than 4.5 crore visitors on an average in a month.
With Droom you have the power to grab the eyeballs of millions of potential buyers in India. The single largest auto community if waiting to be utilized just with a click of a button. But why you should sell your cars online? Well, here are some few good reasons as to why you should get rid of your car via online platform.
No Cost Advertisement
One of the biggest advantages of the online platform is that you do not have to shell out a single penny out of your pocket to place an advertisement on the online auto market place.
All you need is an internet connection and a camera. You just have to click few pictures of your old car and list your car on the online auto market place and within no time you should be receiving offers on your used car!
Wider Audience
There is a limited number of people who visits your local dealer to buy a used car.
But the online auto-market place sees the millions of people visiting their websites in just a month!
It is no brainer that higher visibility means raised probability of selling your car. So, why to waste your time in the local market place when you can grab the attention of more than 3 lacs dealers on Droom!
Trust Factor
People have a hard time trusting their local used car dealers. The reason why being the chances of you being duped by the dealers. There are many instances where people sell their cars at a lower price of what actually the car deserves! This could also happen to you if you are not aware of the fair selling price of your car. But how can the online platform you?
Well, the answer to this is the Orange Book Value that allows you to know the right and fair price of your car in just under 10 seconds! And the bonus is the tool is actually free of cost!
The amount of popularity of the OBV tool can be gauged from the fact that more than 30 crore or 300 million pricing queries have been generated so far!
The advantages of selling used car online outweigh the local dealer way by many folds.
But how to sell vehicle online right away?
First start with setting up a seller account – Individual or Pro-seller account whichever suits you the most. Then upload your car listing on your account and fill in the accurate details of your used car.
Finally, activate your listing by clicking on activate button or pay if you are opting for premium seller services.
Then share you can share your listing on various social media platform like Facebook, Instagram, twitter etc.
Done!
However, merely opening a seller account is not enough. Not everybody is a good online seller. If you want to become a good seller then here are some tips to seller which the dealer must pay heed to –
Increase your chances of selling by offering both pricing formats; i.e., fixed price and best offer.
Upload at least six- high-quality images of a vehicle. For cars, a dealer must upload interior and exterior images and share an image of an open bonnet, engine view. If possible, you must share a 1 Min video of a vehicle which would give buyers a good perspective of a vehicle.
Selling your used cars is super-easy as it is setting a seller account. Droom gives you the power to sell your used car quickly but at the right price!
Happy Selling!