Keeping your used car inventory moving is the key to profit for a car dealer. But for some time the slowdown in the economy is spreading fear among dealers. The biggest fear for a used car dealer is not finding a buyer.
When cars don't leave inventory, the dealer is running into a loss. Cars are some of the fastest depreciating consumer product in the market.
From the time, a used car arrives in the lot, the clock starts ticking and if you are not able to sell it on time then surely you would end up losing money forget about profit. The key to turn your business in profit is to by selling your car online.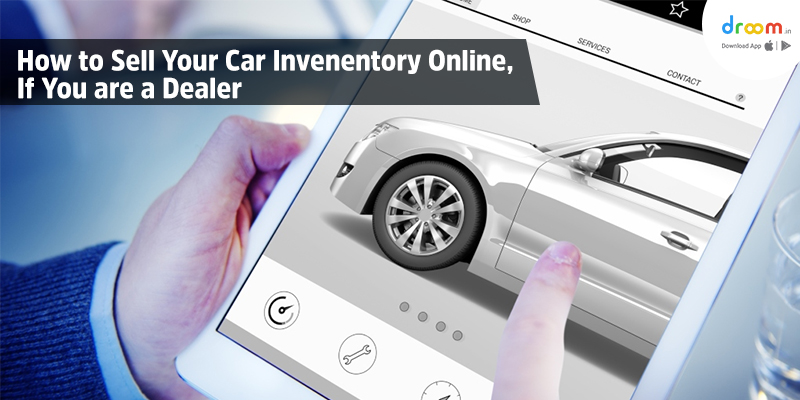 Yes, the online auto market place is the fastest-growing auto community in the country. With millions of potential buyers visiting the online platform, you are standing at a potential money-minting platform.
Today's millennials prefer, buying shoes to cars online! Yes, the crores of transactions are proof of the increasing trust of buyers on the online platform. And with some incredible services like used car inspection, RTO services online auto marketplace is the preferred medium for lacs of car buyers.
Droom is the largest online auto marketplace in the country with more than 3 lacs registered dealers on the platform.
The platform is a one-stop solution for car dealers to sell cars online and avoid losses.
Here is how you too can sell car online.
To get started, you need a seller account which is of two types  "Individual Seller account" and "Pro-Seller "account. For car dealers a pro-seller account is the way to go.
But what exactly is a pro-seller account?
Typically, the pro-seller account is used by auto dealers, brokers, resellers, or auto manufacturers to sell their cars. A pro- seller account is much more advanced than an individual account. The pro seller account has some advantage over the individual seller account. The main benefit of pro seller account is that you can reach out to more than 45 million potential buyers in just a span of one month.
Also, there is no fee for the listing and neither there is a limit on the number of listing you can post in your account. With the help of the pro-seller account, a dealer can sell vehicles faster and with more convenience.
However, the pro-seller account is divided into three types – Pro-Seller Basic, Pro-Seller Premium (additional features and services) and Pro-Seller Business (multi-dealership management).
A dealer can open a pro-seller basic account at free of cost while for Pro-Seller Premium account one has to shell out Rs. 2500 per month.
With a premium account, a dealer gets the benefit of advanced analytics that inform the dealer of various metrics and factors that helps dealers to analyze their local listings.  With Pro-Seller Premium account a dealer gets access to Pro-Seller Store Front, Advanced Analytics, My Favourite Seller Program. Lastly, to set up a "Pro-seller business" account, one has to pay an amount of Rs. 8333/month.
With Pro-Seller Business account, you can access Enterprise Dashboard, Transfer Miles to Dealers, Manage Dealer Network, Enterprise Showroom, Account Management.
However, merely setting up a pro-seller account is not enough. Not dealer can be a good online seller.
If you want to become a good dealer then here are some tips for the dealer  that will help him to boost his sales.
Offer on both pricing formats – fixed price, best – selling which would increase your chance to sell car
Upload at least 6 HD images of a car that must include interior, exterior, open bonnet. If possible, share a 1 Min video of car that give a good perspective of a car
Try and fill as many trust factors as possible to build higher trust for potential buyers.
Offer listing certification package which includes premium reports for orange book value, Eco inspection, and Droom History.
Close transaction as soon as possible after the commitment fee (token amount) has been paid.
Accurately fill all the important details of a vehicle that would build trust among potential buyers.
Also, the dealer should Price a used vehicle competitively which raises the probability of a vehicle being sold.
To gain the trust of buyers, a dealer should become a verified seller.
The online selling is easy and 100% transparent process. With Droom, a dealer can turn his business profitable.