If you are owning a car and now you want to sell it quickly, you need to follow 5 simple steps to sell your used car: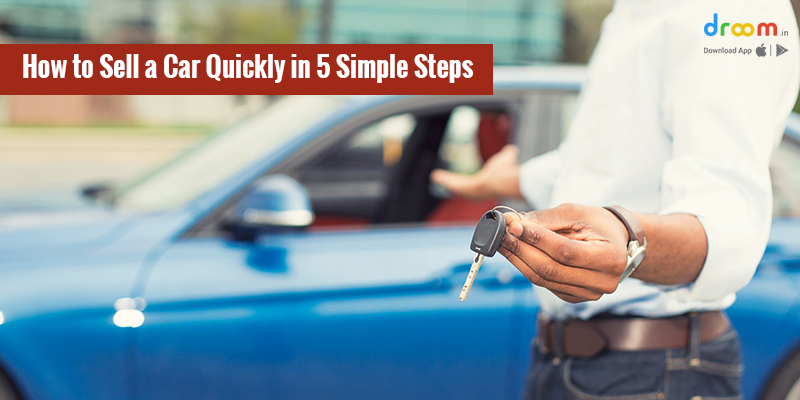 Gather all the documents
Before you think of selling your car, you need to be ready with all the required and necessary documents. You first need to locate your car's title, which is also called a pink slip. This is a legal right to sell the car. But remember, don't sign it yet.
You must confirm with your lender too in case you had taken a car loan. If your loan is still pending and you want to sell the car, you must consult with your lender.
Transfer of ownership can be an issue for you later. So, visit the DMV online and check with the motor vehicles' department of your state what all papers will be required for ownership transfer. You should also check whether you have to give the license plates with the car while selling.
Fix the price of the car
You must keep an asking figure with you. You must check the condition, history, and age of the car as per your opinion and fix a price of the car. Or, you can take the support of any online used car price evaluation tool and get the correct price range, within or around which you can quote the price.
For further and better evaluation, you can take the help of a professional technician for inspection and get an accurate report. This will also prepare an inspection and history report, explaining all the details related to the owner, accidents, Kms driven, etc. With all these exact numbers, the price of the car can be fixed in a more accurate manner.
Showcase your car
Tips to sell your car quickly includes the need to showcase or advertise your car in a proper manner. Click some good pictures of your car standing in the parking area, the interior of the car from driver's seat to rear seats, tyres and the engine. The better picture you get with superb clarity, the better you will be able to build trust and confidence of the buyer.
But, before you display your car, you must give your car curb appeal. The first impression is the last impression. If the buyer does not get appreciate by your car by its first look, then chances are less that they will prefer to purchase your car in the end. There is no need to fix each and every dent and scratch, but wash and vacuum the car, so that, all the junks that have been accumulated over the years gets removed.
You need to click nice photos from all angles of the car and create ads to sell your car in different platforms. This will help your car gets noticed by many potential buyers and your car will be sold in no time.
Choose your buyer carefully
This is one of the vital steps that you need to focus on while selling your car. Your car is your property, you cannot sell it to anyone whom you cannot rely on. Moreover, the buyer will give a visit to check your car's basic information. If unfortunately, the buyer is a fraud one, you may be stuck in a big problem. You should create a separate email account and a free Google Voice phone number, which you will use for this car sale. In this way, you will be able to screen buyers easily. Be alert, whether the buyer is trying to flip car or not. This means the buyer will buy the car at a cheaper rate and will sell the same at a much higher price.
It is your duty as a seller to inform the basic info including year, make, model, mileage and condition for the car to the buyer during the reviewing the stage. Once you will start interacting one to one with the seller, you will be able to understand who is genuine and who is interested in your car.
Allow a test drive
If you do not allow a test drive to the buyers, you may be marked as a fraud or bad seller. A test drive is a must, just before the transaction happens. You may not allow each and every buyer for a test drive. But someone who is eager to purchase your car should get the chance for a test drive.
Meet the buyer at a safer place and try to carry someone with you. There, they may ask for a test drive, so allow them. But you must accompany them. So, choose a place that is safe and known to you.
You may have taken the help of a technician, but the buyer can also consult a technician before buying your car. So, allow them and let the buyer pay for it. But, be careful while your car is getting inspected as the technician may change some parts of the car without your knowledge.
Once all these steps are over, a buyer may or may not be eager to buy your car at the same price quoted by you. So, a negotiation stage may appear for you. Once, you and the buyer agree to a price, the transaction will take. However, if you want to instantly sell your car, bikes, scooters and other vehicles in India online, you can opt for the QuickSell facility of Droom, your car can be sold quickly within one week. This is the fastest way of selling the car.