Ford Freestyle – Winner in the category of Jury's Choice Pre-Owned Premium Hatchback of the year
A big news for all the Ford Freestyle owners, your very own Ford Freestyle has been named as the best Pre-Owned Premium Hatchback of the Year by the esteemed Jury members of Droom Pre-Owned Auto Awards 2. Competing in Premium category it was bound to face tough competition from some of the best cars around. The nominees for this category included:
Ford Freestyle
Honda Jazz
Hyundai Elite i20
Defying all the odds, your very own Ford Freestyle was adjudged as the winner in best Pre-Owned Premium Hatchback of the year category.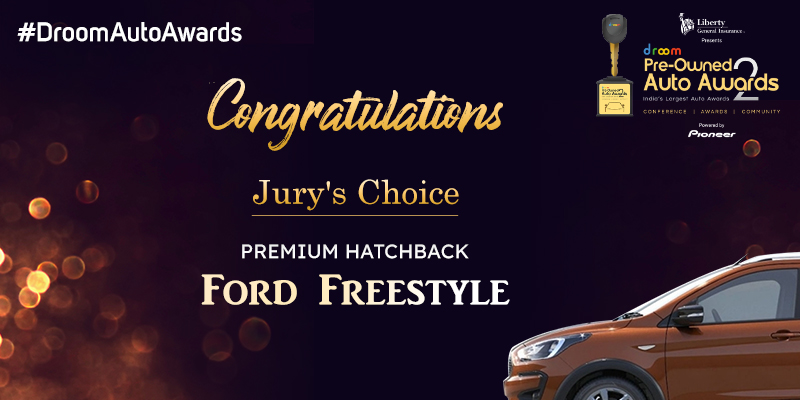 Judging Methodology
The vehicles falling under this category were considered and tested on different criterias and finally the 3 finalists were selected and test driven on the tracks of Buddh International Circuit on Droom Track Day and were scored by the jury out of 200 on pre defined parameters. In order to maintain complete transparency and integrity of the awards, none of our jury member had any affiliation with any motor vehicle brands. The final result and the winner was announced and the winners were rewarded at Droom Pre-Owned Auto Awards 2, the grand event at ITC Maurya on 20th Dec.
About Ford Freestyle
The Ford Freestyle oozes its beautiful design from every curve and corner. Its bold and sporty exterior complements its appealing interiors.The bold front grille gives the Ford Freestyle an aura of rugged masculinity. The Ford Freestyle carries itself with R15 wheels that don't just turn, but glide on the way. The roof rails possess the right mix of style and muscle. Perfectly colour coordinated seats, stunning door accents and the very useful and beautiful dashboard will add charm to any journey. Ford's Duratec 3.0-liter V-6 produces 203 horsepower and 207 pounds-feet of torque and drives a continuously variable transmission. All-disc antilock brakes are standard, and traction control is standard on vehicles equipped with all-wheel drive. Ford's V-6 and CVT work beautifully to deliver eager acceleration with utter smoothness. Overall performance wise this vehicle tops the charts and that's why this has emerged as a winner in this category.