The winner of 'New Commuter Bike of the year' is Bajaj Pulsar 125.
The new commuter bike of the year is the one which slays on the road with ease.The bike that has already won millions of hearts over a period of time and is still giving tough competition to all others by still being the favourite. The nominations for the first award category are:
Bajaj Platina H gear
Bajaj CT 100
Bajaj Pulsar 125
After such a long journey, and competing with the above given industries best players in the market and ultimately Bajaj Pulsar 125 came out on the top.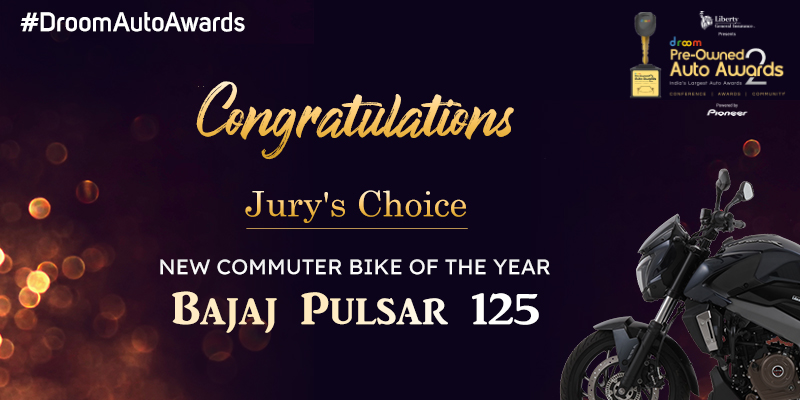 Judging Methodology
Judging is based on the method where panel members prepare score sheet and the bike with the highest score is considered to be the best. Each vehicle in the competition are tested on the tracks on the predefined parameters set up for the judgement.The vehicle with the best rating and scores comes up to be in the first position and clearly grabs the award.
The final result was announced at Droom Pre-Owned Auto Awards 2, the grand event at ITC Maurya on 20th Dec 2019.
About Bajaj Pulsar
The Bajaj Pulsar is, without a doubt, one of the longest-running motorbike in the Indian two-wheeler space. The Pulsar began its journey way back in 2001.Who doesn't remember the 'definitely male' tagline… It was an instant hit and became the benchmark for 'sporty' looks and performance for entry-level bikes in the Indian market.
The single-cylinder air-cooled engine is based on the Pulsar 150's architecture, but because it has a shorter stroke of 50.5mm, instead of 60.7mm (bore is identical at 56mm), the cubic capacity stands at 124.4cc. The engine has a rated power output of 11.8bhp and gives out 11Nm of peak torque. At 140 kilos, it's the heaviest motorcycle in the segment. That said, it's a very relaxed motor and the power delivery is linear. The NVH levels are quite impressive too. The motor feels happiest when cruising at around 80km/h.
For a 125, it doesn't struggle anywhere in the rpm band. It pulls up cleanly, it glides on inclines and if you take it out on the highway you will get to feel the power of this machine.