Bajaj Dominar 400 – Winner in the category of Jury's Choice Pre-Owned Bike of the year (300cc-500cc)
Bajaj Dominar 400 has been ranked as the best Pre-Owned Bike of the year (300cc-500cc) by the esteemed Jury members of Droom Pre-Owned Auto Awards 2. This bike provides you the perfect combination of beauty and the beast. It's as beautiful as it is smooth on roads. Despite competing in the 300-500 cc category, along with few of the country's best vehicles, Bajaj Dominar had enough to still come out on top.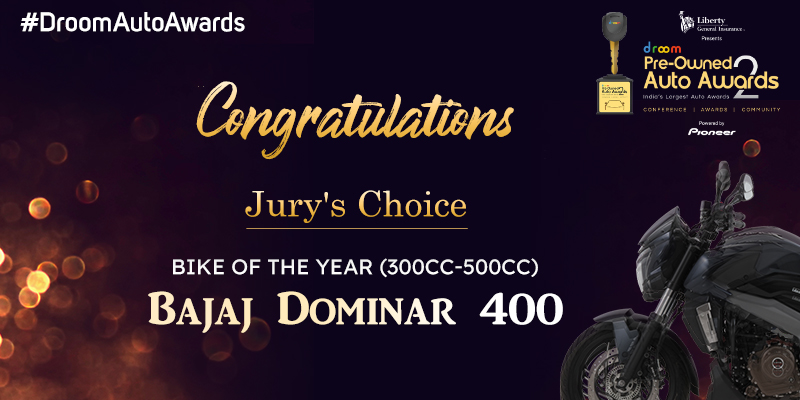 Judging Methodology
The judging methodology was quiet clear. We considered all the pre owned vehicles falling under this category. Took the best out of them and then tested those on the rugged tracks of Buddh International Circuit on Droom Track Day by the jury members and were rated accordingly. We also ensured that none of our jury members had any association with any motor vehicle brands. Finally winners were announced at Droom Pre-Owned Auto Awards 2, the grand event at ITC Maurya on 20th Dec 2019.
About Bajaj Dominar 400
The new Bajaj Dominar 400 is a perfect machine which can wear many hats and fulfil many roles. Dominar 400 is the motorcycle every rider seeks – the daily commuter as well as your very own long distance tourer promising easy and safe ride, that too without compromising on comfort. The new Dominar comes with a liquid cooled 373.3cc DOHC engine that delivers significantly higher 40 PS power and 35 Nm Torque which propels it from 0-100 Km/h in just 7.1 seconds, isn't that amazing?? . It also features 43 mm upside down (USD) forks which gives it a very powerful muscular look along with better handling and comfort to the rider. Aren't all these features just amazing. These are the features that makes Bajaj Dominar one of the best machines, one can get their hands on!
Also along with the engineering team, its advertising team needs to be applauded for their efforts. Hope you remember the epic advertising battle between Royal Enfield and Dominar!