When you have finally decided to buy a used car to get on the road with steering in your hand for the first time, your decision is quite logical and right one. Buying a used car is the best way to enjoy your rides without spending a hefty price on a new car. Also, with the online service of buying a used car, you can now have the option (to check everything/every single detail online) in just one go. First thing is price which is, of course, the prime factor behind your decision to go for this option but there are several other aspects as well that you need to consider and inspect before going for the final deal. You can now check detail car history online through an online seller of old and new cars.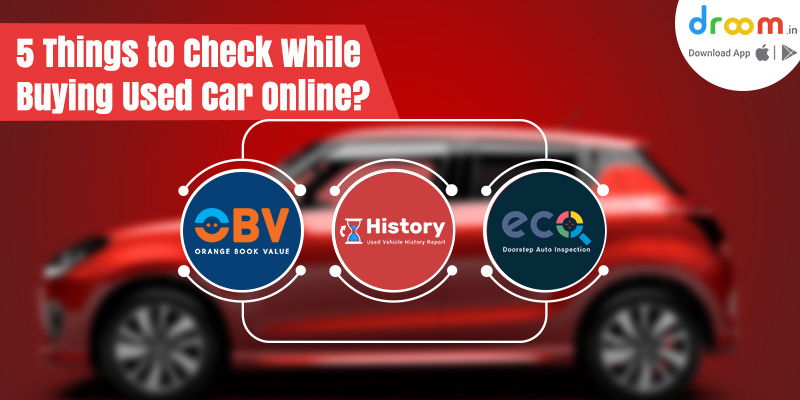 Things to check while buying a used car online:
The online automobile market has been gaining momentum over the past ten years. Buyers interested in dealing with old cars or any other vehicles find this online market the most authentic way to grab the best deals. However, you should always be vigilant and knowledgeable to deal confidently. Following are the top 5 things to check to buy a used car online:
History of the car you have selected:
Obtain the maximum possible information about the car you have selected and willing to buy. When you are on a reliable online car seller's site, you will get a detailed car history online. Go through it thoroughly and ask questions to the customer service or the seller whenever needed or if you need some more information. Ensure that the car is in good condition, it has not faced any major accident, and its legal documents are all up-to-date. Also, confirm that it has no major mechanical issues and it's giving impressive mileage. 
Check used car price online:
Top-ranked online car dealers keeps everything open. You come to know about the best deals just accessing their sites. As price is one of the key factors for which you opt for a used car, you should check used car price online to obtain the best deal. Best online second hand car dealers always help you find your dream brand within your budget.
Be clear about all repair works you need to accomplish:
As you go through the car history and getting information about its present condition, obtain complete information on what repair works you need to accomplish. Normally, a reputed online dealer of second hand cars always ensures that the car is in workable condition and they perform necessary eco inspection services, you should remain clear from your side. Get complete information on the conditions of the tires, car's body, internal electronic devices, upholstery, and headlights. After the physical inspection of the car, you may want to change or repair some parts for which the expenses will be over the price of the car. This will be your expenses for which you can try car repair cost estimate online information for a clear idea about different expenses you may need to incur right after buying the car. 
Registration Certificate (RC) and Insurance:
As far as the registration certificate and insurance are concerned, a reputed online dealer of the second-hand car keeps you informed on the status of the transfer of ownership and helps you in every possible way to ease the job. After the transfer of RC, you have to approach the car insurance online. If the registration name is transferred and you have got the ownership but the insurance is still in the name of the previous owner, the insurance stands ineffective. Both these documents are important and you should keep track of these documents without fail. 
Even a thorough inspection, getting a complete history, and checking with the help of a mechanic may not reveal possible problems that a test drive can. If possible go for the test drive taking an experienced mechanic or a friend who understands the car with you. 
The online market for old cars is getting thousands of visitors every day. Online used and new car dealers like Droom thoroughly inspect every used car and related legal documents before the display. They also help the sellers and buyers to obtain the best deals and complete all paper works smoothly. Thus, the online market for second hand cars is always a reliable place to finalize your purchase of a used car.