The Indian car market is booming at a rapid pace. With new players coming into the market, it's hard to keep up the numbers for every brand. Maruti already captures 60% of the market with its unique offerings while its competitors try to get their piece of the pie. Due to its high resale value, people opt for Maruti cars and then sell cars online with a good profit margin. We tried to conduct a competitive analysis of car selling units for the last 5 years and check which are the top selling cars in India.
Sell Your Car
List of Top Selling Cars in India in the Last 5 Years: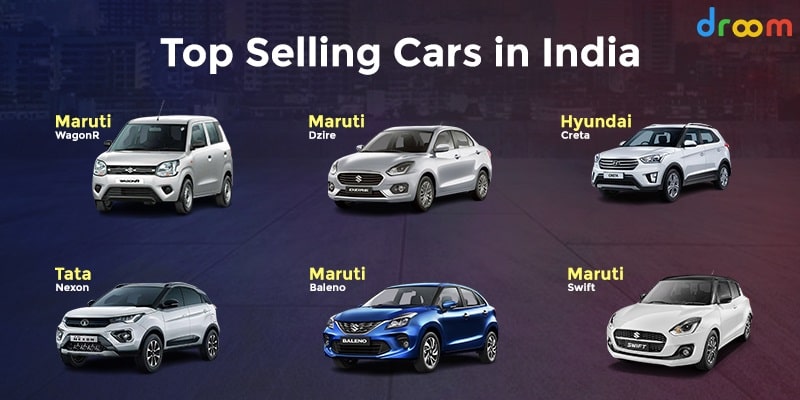 | | | | | | |
| --- | --- | --- | --- | --- | --- |
| Car Model | March 2022 | March 2021 | March 2020 | March 2019 | March 2018 |
| Maruti Wagon R | 24,634 | 18,757 | 9,151 | 16,000 | 14,208 |
| Maruti Dzire | 18,623 | 11,434 | 5,476 | 19,935 | 22,195 |
| Maruti Baleno | 14,520 | 21,217 | 11,406 | 17,264 | 16,254 |
| Tata Nexon | 14,315 | 8,683 | 2,646 | 5,616 | 4,405 |
| Maruti Swift | 13,623 | 21,714 | 8,575 | 14,218 | 19,207 |
Maruti Wagon R: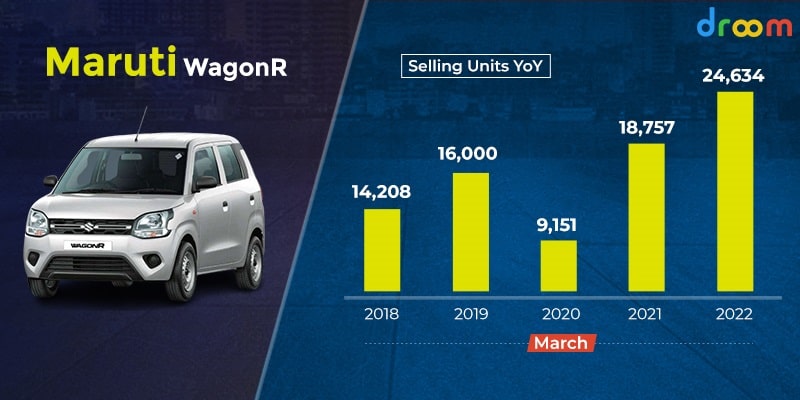 Known as the tall boy of India, Maruti Wagon R is unique in its market segment. Its boxy look is loved by many customers, hence it sells around 24,000 units on a monthly basis, making it the top selling car in India. Its selling units have increased year-on-year; 14208 in March 2018, 16000 in March 2019, 9151 in March 2020, 18757 in March 2021, and 24634 in March 2022.
Mid variants of Wagon R are packed with decent safety features where one can drive both in the city and on highways. Space is the key offering in this car, clubbed with a peppy petrol engine. One can get optional airbags & ABS across all trims. AMT option is available too for a car which is already easy to drive in city traffic.
Maruti Dzire: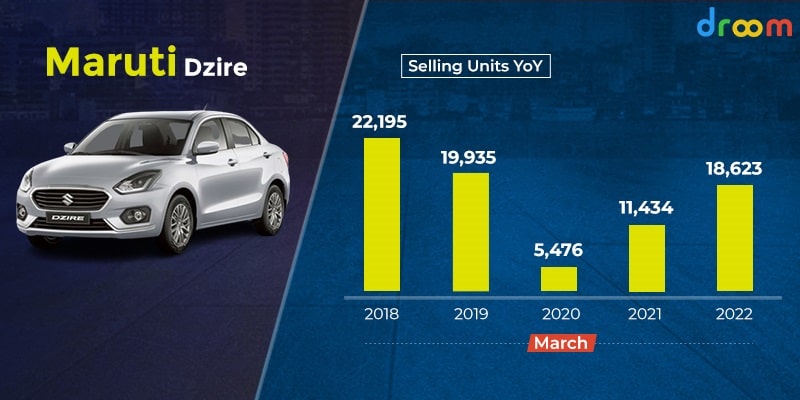 Maruti Dzire has been the most favored car since its inception. It continued the same with June 2018 sales. With woofing, 24,000 units in one month alone make it the most sold car in June sales. In the last 5 years, Maruti Dzire has been one of the best selling cars with selling units of 22195 in March 2018, 19935 in March 2019, 5476 in March 2020, 11434 in March 2021, and 18623 in March 2022.
People love it because of its offerings & trust Maruti built in India. Some of its tough competitors include Hyundai Xcent, Honda Amaze, etc. One can get exciting offers on Used Maruti Dzire at Droom while selling cars online.
Hyundai Creta: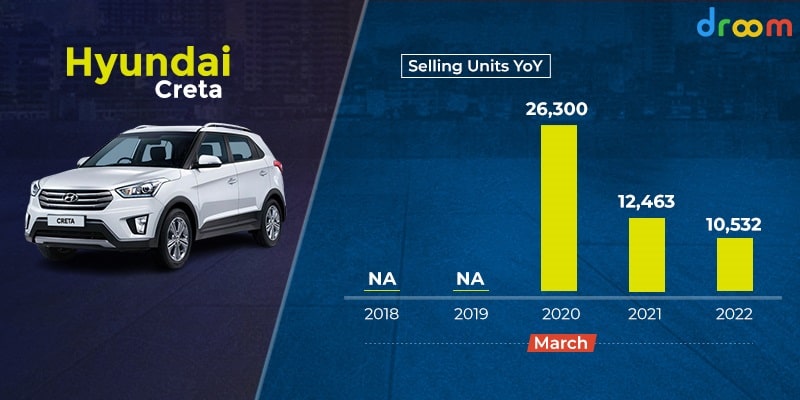 Though Hyundai Creta is a comparatively new addition to the market, its charm and performance have moved everyone. Within 4 years of its launch, it has sealed its position and managed to rank among the top 5 best selling cars in India. In March 2020, Hyundai Creta crossed every landmark and topped the list with 26,300 units sold. Even in March 2021, it was 12463 and in March 2022 it was 10532. It may look like a declining sell model, but Hyundai Creta will surely pick up the pace and win the race in the upcoming years.
Maruti Baleno: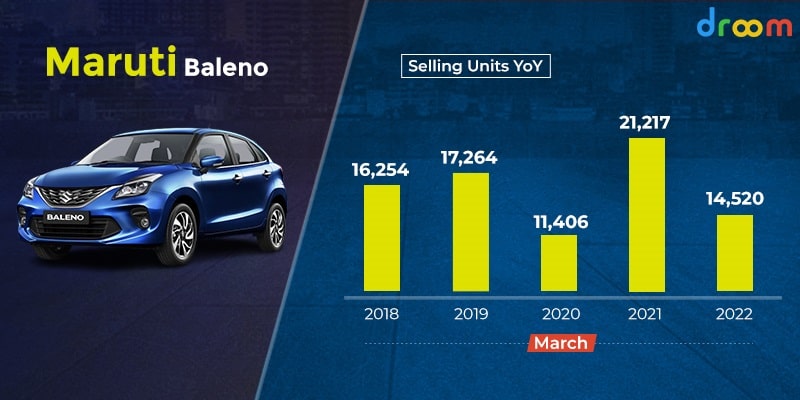 Maruti took the market by storm by introducing the premium hatchback "Baleno". It took the game to the next stage by introducing its RS model. Compared to its competitors, it provides more features at a reasonable price. A customer can opt from 14 different variants based on their choices compared to any other competitors. Its main competitors include Hyundai Elite i20, Honda Jazz, Volkswagen Polo, etc.
As Baleno is built on a lightweight platform, it results in great fuel efficiency too. It sells around 17,500 units per month on average. If we browse through the 5-year selling records of Baleno, we will find 16254 in March 2018, 17264 in March 2019, 11406 in March 2020, 21217 in March 2021, and 14520 in March 2022. In 2020, when the market was all-time down and all other brands were hitting the ground, Maruti Baleno led the list of top selling cars.
Tata Nexon: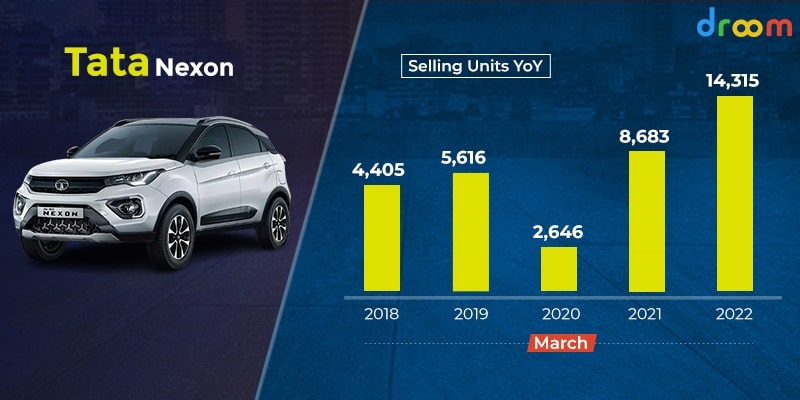 Tata Nexon is the leading player representing Tata Motors in the race for the most selling cars in India. Though in the last 5 years, it was not so successful in proving its popularity, as its selling units were 4405 in March 2018, 5616 in March 2019, 2646 in March 2020, and 8683 in March 2021. But, this year, Nexon has crossed all expectations with a whoofing 65% growth in sales and reached 14315 in March 2022. It's high-strength steel structure provides next-level safety during any unfortunate collision. Though its design, technology, performance, and comfort offer a drive experience like no other, its safety features draw the attention of most Nexon lovers.
Maruti Swift: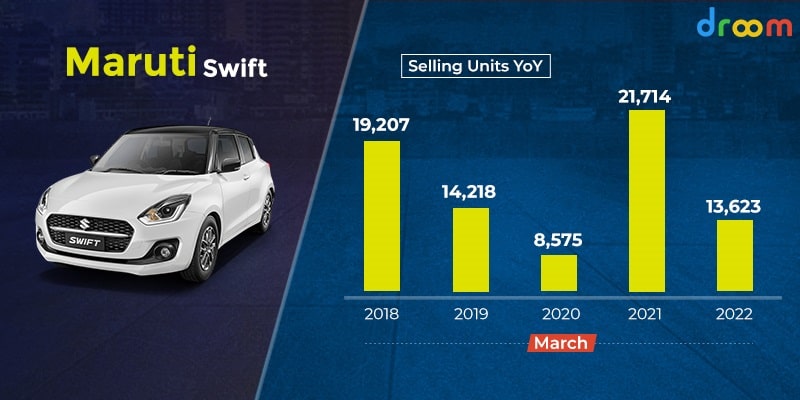 The New Maruti Swift was a hit as soon as it was released. It got its peppy engine & fun-to drive characteristics from its past models & brought in new features with its new design. It was loved by everyone and as no surprise, it stood as the best selling hatchback in India with 18,000 units sold per month. Can you guess the selling units of the Maruti Swift in the last 5 years? You won't believe it, it was sold 19207 in March 2018, 14218 in March 2019, 8575 in March 2020, 21714 in March 2021, and 13623 in March 2022. The best part is it has great resale value and one can easily opt to sell my car on Droom. Just remember to check the fair market price on Orange book value before listing your car.
In India, hatchbacks from Maruti are opted maximum by users because of trust in the brand. However, competitors are slowly covering the market with their offerings. It's a boon for the consumers as the market becomes more competitive year on year and it's clearly reflected in the numbers of top selling cars.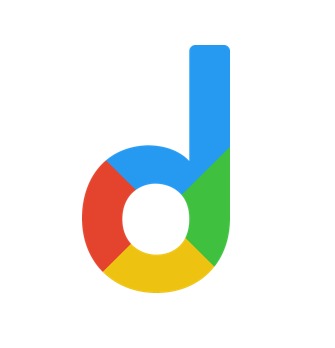 Droom is an automobile e-commerce platform offering a 21st-century automotive buying experience online with its four value pillars including trust, selection, low price, and convenience second to none. It offers 250k+ vehicles online in 1,100 cities — both used and new. Droom deals in buying and selling cars, 2-wheelers, and other vehicles too. It is an AI and data science-driven platform designed with the best ecosystem tools. Here, we have a team of auto-experts and auto enthusiasts who are dedicated to covering every sphere of the auto industry by simplifying the procedure of buying and selling with Unified Droom Experience. To know more, click here.