It's well know, boys ride toys men ride bullet. For your next adventure trip, Droom is bringing you a jaw drooping bullet deal, that's not-to-be missed. So, if a handsome bullet is your next purchase list, now is the right time.
Experience a little more spark and adventure in your life while riding a Royal Enfield bullet, which comes with considerable discount of up to ₹27,000. At droom.in get Bullet Deals every Friday with an incredible price tag and perks. As today you and shop fancy bullets with up to ₹27,000 off + Free Helmet + Free Biking Gloves, worth ₹2000.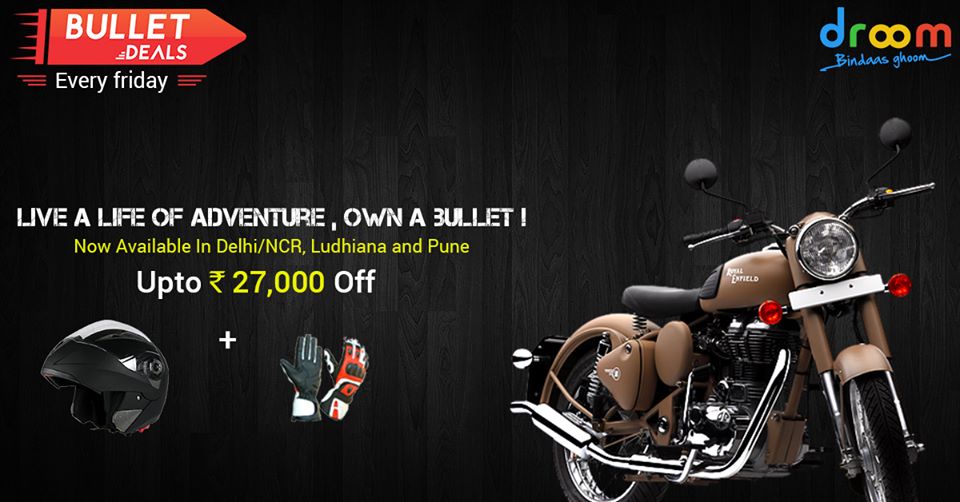 Every used bullet comes from a verified seller and is covered under Droom's Buyer Protection. You can simply pay the token amount and verify & test drive the vehicle before final payment. Isn't that great? This gives you peace of mind and security for money.
Be a proud bullet owner know and flaunt your style, no one could just take eyes off from this manly beauty. And of-course Enfield is meant for those who have heart with full of emotions… because bullet is not just bike, it's a life.
The buyers from Delhi NCR, Ludhiana and Pune can shop through this Friday special. You can catch this up on Droom website or mobile app.
So, what's stopping you. Hurry! Shop before these bullet deals are gone for good.