With the advancement in technology, people these days are seeking advancements in their vehicles too. This is where this category comes in, basically technically advanced vehicles . The connected car is able to connect with other devices inside and outside the vehicle.The vehicle is advanced in its own ways and has connectivity to other devices as well.
The nominations for this award category are:
Kia Seltos
MG Hector
Hyundai Venue
The winner of 'New Connected Car of the year' is Kia Seltos.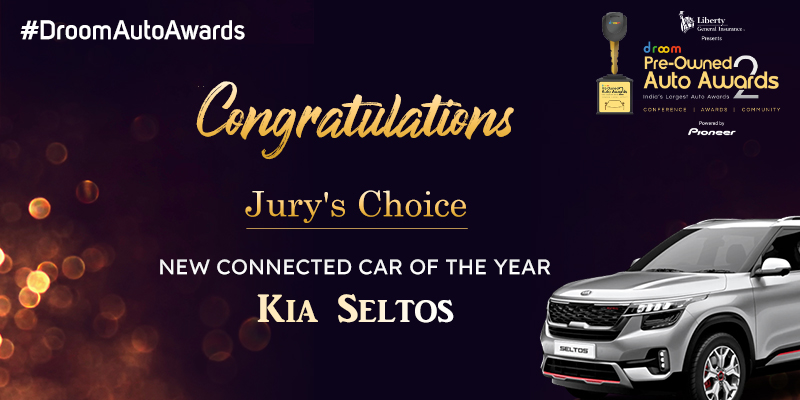 Judging Methodology
The specified pre-selection criteria of the new vehicles were that the vehicles were to be launched within Oct 18 and Sept 19 both inclusive.The jury panel members took the vehicles for test drive and rolled the scores for its performances and specifications.The test was conducted under the supervision of the distinguished industry experts.The judging was extensive and honest and were considered on the basis of the pre determined eligibility criteria.
About Kia Seltos
The Seltos offers sharp handling similar to every SUV but pairs it with a taller ride height, a roomier cabin, and even more technology. Under the hood are two engines a 2.0-liter four-cylinder that makes 146 h.p. and a turbocharged 1.6-liter four-cylinder that pumps out 175 hp.—with either front- or all-wheel drive. While the base engine is mated to a continuously variable automatic transmission (CVT), the turbo comes with a seven-speed automatic transmission. A host of driver-assistance features are optional, including an adaptive cruise control system with lane-centering assist and automated emergency braking with pedestrian detection. Infotainment too, is cutting edge with a large 10.3-inch touchscreen gracing the well-equipped dashboard. From what we see so far, Kia has added yet another fantastic SUV to its brand name.
The Seltos offers a firm but mostly smooth ride and handling is sharp for an SUV. On the safety side, the Seltos is packed with a lot of features, including six airbags and a comprehensive active suite system. The Seltos is available with automatic emergency braking, rear cross-traffic,pedestrian detection alert and even a comprehensive lane-keep assist system and adaptive cruise system.