You can only become a top-rated seller on Droom or any other platform if you follow each and every nitty-gritty of being a seller. A seller is not the person who thinks of selling a vehicle and sell it off anyhow without considering any factor or the issues faced by the buyers. If you want to sell used cars, you have to put yourself in the buyer's shoes and think what all factors you will want as a buyer to know and get. If you can do so, then only you can become a top-rated seller.
Here are the factors that you consider to sell vehicle online:
Must pass on important documents
When you decide to sell car online instantly, make sure you pass on all the important documents to the new buyer. The necessary documents include RC copy, RTO service, additional warranty, Insurance copy, Loan copy and Service Logs copy. Each of these documents will be highly essential for the new buyer. You as a seller won't need them anymore, once your car is gone, but a buyer will need them.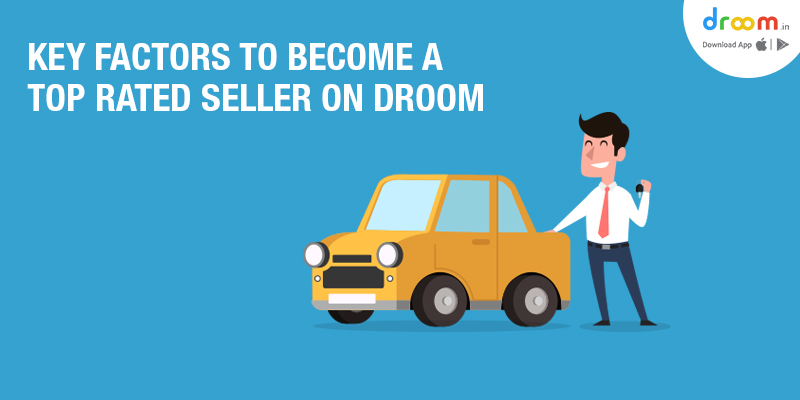 Follow the OBV suggested value
Orange Book Value or OBV is an algorithmic pricing engine that is built on data science and it provides fair market value of any used vehicle after evaluating each and every element of the vehicle. So, a seller needs to consult OBV while fixing the price to sell vehicle online. It is important for you as a seller to consult OBV to make sure you get paid what buyer is willing to pay versus suffering from huge markup margin of a middleman.
For example, you have Hyundai Xcent SX AT 1.2 OPT 2014 and you being the first owner of the car wants to sell car online instantly. OBV after evaluating all factors most probably will estimate the car value between Rs. 4.12 lakhs to Rs. 4.37 lakhs.
It is up to you to keep the price of the used vehicle within the price bracket offered by OBV or keep it below or above that bracket. You can keep the car value Rs. 4 lakhs or Rs. 4.65 lakhs. But generally, it will be great, and a buyer will be eager to pay the amount suggested by OBV.
Rank good on Benchmark Market Value
Your vehicle will get some kind of ranking and valuation. As per the Benchmark Market Value, your car can fall under four categories as per the condition of the vehicle- fair, good, very good, and excellent. The better the condition of the vehicle it will easier for you to sell the vehicle and get maximum price.
Rank good score on Full Circle Trust Score
One more ranking factor is the Full Circle Trust Score, where the scoring is done on the basis of four parameters- transparency, seller, health, and pricing. Every time when you will sell a vehicle and the transaction will end up smoothly and the buyer will be happy, your seller score will keep on increasing. Higher will be the score, the better pricing you are likely to get.
For example, you have a bike Honda CBR 250R 2011, which has run for 8,000 Kms only and you being the first owner is offering RC copy, insurance copy and additional warranty along with the bike. So, after evaluating all parameters your transparency score may be 6.2, seller score 7, health score 7 and pricing score 7 and the overall Full Circle Trust score is 6.8. On the basis of this score you will be able to sell bikes online.
Sell a genuine product
Last, but not the least! In fact, the most important factor is to sell genuine products. By genuine product means the car should belong to the original owner. It should not be a stolen car which has hardly any background history. You must clearly state the history of the car including the ownership details, theft history, loan history, registration details, accident history, accident claim history, insurance history, flood damage history, service logs history, etc. You should mention all these beforehand by yourself, otherwise, nowadays it is easy to get the information with the help of used vehicle history report.
Types of sellers
You can be an individual seller or a pro-seller. These are the two types of sellers, you can be. If you want to sell only one or two vehicles online on Droom, you need not be a top seller. But, if you are a Pro-seller, you will definitely want to become a top-rated seller. In this way, more and more buyer will be interested to purchase from you, you can bid a higher price and your vehicles will be sold instantly.
The above-mentioned factors are some of the tips for dealers or pre-sellers to become a top-rated seller. However, after becoming a top-rated seller, you can enjoy benefits such as:
Sell more through best offer or auction
Access advanced business analytics
Upload listings for free
Source vehicles at incredibly low prices
Communicate with buyers with message platform
Track your rating & reviews
Track your billing & payments
Access to Droom university
Use listing certification
Package to enhance
Value of your listing
Participate in Droom deals
So, if you are a dealer or company dealing with buying and selling cars online, it is important for you to follow these pointers and enjoy the benefits in future.