It is surely beneficial to have Droom Pro-Seller account, but first you need to know who a Pro-Seller is, how to become and what exactly will benefit you from it.
Who is a Pro-Seller?
Pro-Sellers are typically auto dealers, brokers, resellers, or auto manufacturers. Pro-Sellers can be authorized dealers of an auto brand or they may have their own showroom and operations. But, when a seller is ready to sell more than two vehicles and set up a long-term relationship with the company, he/she is eligible to become a Pro-Seller. Droom offers sellers the opportunity to become Pro-Sellers on our platform.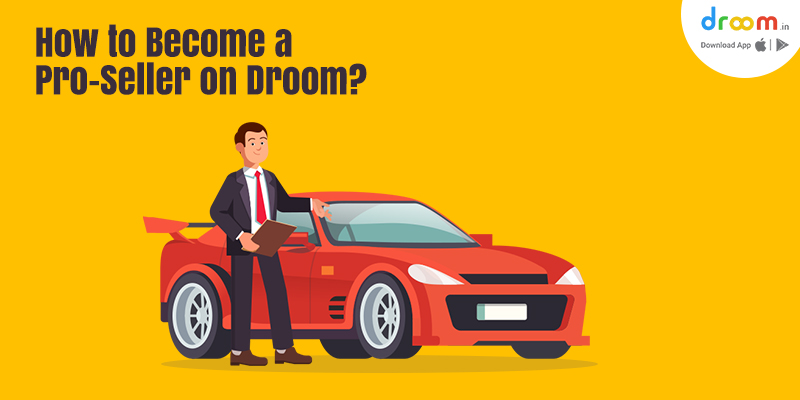 How to become a Pro-Seller on Droom?
To become a Pro-Seller on Droom, you need to open Droom Pro-Seller account first.
You just simply need to visit the website of Droom and fill a single pager form.
Fill your:
First name
Last name
Email Address
Mobile No.
An OTP will be sent to your mobile number and you need to enter that
Enter OTP
Business name
Password
Confirm Password
Then your account will be created successfully.
How to sell cars online after becoming a Pro-Seller?
Once you have created Droom Pro-Seller account, you are a certified seller of Droom and now you can easily sell cars online or sell bikes online, by following 5 steps:
Register & create your listing – The first step is to create the listing of your vehicle, be it car or bike, on Droom, so that your vehicle gets the place on Droom certified listings.
Buyer pays 3% token amount – Get the assurance from buyer who likes your vehicle and commits by paying 3% token amount.
Meeting of buyer & seller – Finally, the interested buyer meets you (the seller) and you receive the remaining 97% of amount.
Transaction completed – Once the transaction is done, you handover the keys to buyers and the buyer drives home the vehicle.
Droom pays token amount – The 3% token amount that was deposited with Droom, is handed over to you after deducting selling service fee or Pro-Seller fee.
It is not that you have to research and find what exactly the procedure that a Droom Pro-seller need to follow and what benefits you can grab from it.
For that, Droom University has come forward with 12 best tips for Pro-Sellers to win at Droom.
Upload as many listings as possible with full details
Price each listing competitively near OBV and offer OBV premium report
Upload more and high quality pictures per listing
Frequently update listings and their availability
Place huge emphasis on Full Circle Trust Score while creating listing
Offer 121 Points of ECO Auto Inspection Report
Offer Droom History Report to increase trust in buyers
Give buyers great experience during Transaction Closure Period
Get verified as a seller
Participate in deals at Droom
Fill seller declaration during listing creation
Read Bi-Monthly Seller Newsletter from Droom regularly and also go through important topics at Droom University
What scopes will sellers get at Droom?
A seller or a dealer will get enough scopes at Droom as you will be able to:
Sell
Procure
Finance
Resell
Certification Services
Pricing Services
Branding & Marketing
Community & Education
Tools & Technology
Incentives & Promotions
Why will you choose Droom for becoming a Pro-Seller?
You will get n number of facilities if you become a Pro-Seller at Droom, such as:
5 Cr+ active monthly buyers
Zero listing Pro-Seller fee, you will only pay when you sell
Droom is your own branded online showroom
Open 24/7
Unlimited listings can be created for free
Weekly payouts
No delayed payments
Only committed buyers
No bad leads
Promotion of your listings is available with our seller marketing programs
Rapid business growth from 20% to 500%
Dozens of seller tools available for listings, catalogue, pricing, verification & more
Assisted account management, to provide assistance to sell more vehicles online
Are not these pointers enough convincing for a seller who is looking forward to sell cars, bikes, scooters online or want to set up a long-term relationship with a reliable platform that will always stand firmly with him/her at any situation? If No, then ask Droom your query in the comment section. And if Yes, then Droom Pro-seller account is waiting for you.