As soon as you are on road with your car, bike or scooter, you may meet some mis-happening, if you are unfortunate. None wish to meet one nor can predict one, so you need to be prepared long before you land up on road with your vehicle.
As we all know that there are some documents that you always need to carry along with you whenever you are driving, such as driving license, registration document, insurance document and pollution control certificate.
Car Insurance Policy:
You must be amazed why insurance is compulsory. It is because if you hit some other vehicle with your vehicle and they face any property damage or injury to the passengers of the car, then you need to pay them. But it will be hard to pay such huge amount instantly. There comes the role of an insurance. It is mandatory to have a third-party insurance, so that you can pay the other party immediately to compensate for their loss. There are two other types of car insurance such as collision and comprehensive. It will be much better if you avail any of these. You can get online car insurance at best price at Droom in India.
Roadside Assistance:
Just like insurance, you should also avail the roadside assistance much before you start driving on road. This is because, due to some accident or any other issue, if your car breaks down then you need some immediate assistance on the spot. So, you must arrange for the towing service much before. You never know when and where your vehicle will break down. It may be on a highway, mid of jungle or at night. So, it will be hard for you to find a garage or repair center over there. But, if you have availed roadside assistance services beforehand, then they will appear for your help anytime anywhere.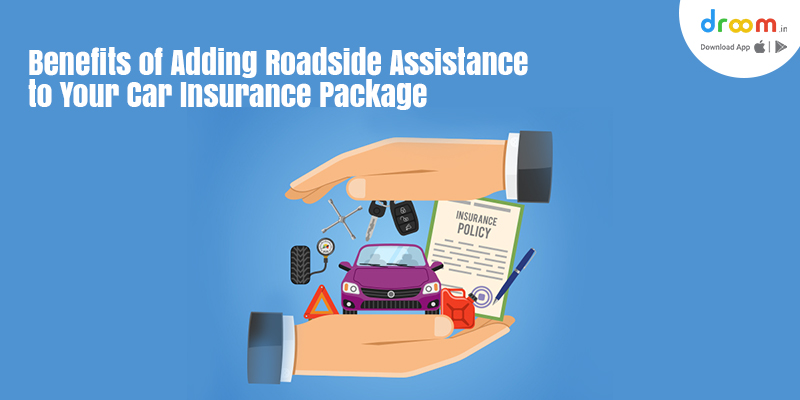 But the question is from where you should apply for roadside assistance services online? Any company that is offering 24×7 assistance, on the spot punctured tyre replacement or repair service for minor faults facility, jumpstart in case of weak or dead battery, on-road key lockout assistance or key replacement assistance, tele-assistance for minor repairs, emergency message relay, city route & map guidance over phone, battery and spare parts availability at a discounted price, service within 29 minutes, car towing service, arrangement of flatbed trucks & winching services, punctured tyre repair in case of two flat tyres, filling up fuel and many more. These services are essential and can only be available at Droom.
These assistances will be more relevant if you unfortunately meet an accident. There is no substitute for roadside assistance for car breakdown. Most people ignore the need for these assistances and start a long drive. The moment they meet a mis-happening situation, the need for these services reveals to them. There are many roadside assistance services available, so you can choose as per your need and budget.
However you need to remember, there are certain services that must be availed, because these are the most essential ones:
Battery jump-start service – When the battery is dead and the car cannot be moved from the spot to the garage, you need to start a vehicle by jump-starting the battery.
Flat tyre fixing service – This is one of the most common issues faced by most of the drivers. You may have one spare wheel with you, but what if there is more than one flat tyre and it cannot be moved to the nearest garage, then you need immediate assistance.
Car towing service – Simply, when the car cannot be fixed on the spot and needs to be carried to the mechanic who is miles away, it needs to be towed by another vehicle.
Fuel delivery service – One more common factor is running out of fuel. If you do not notice the fuel meter, you may run out of fuel in the mid of highway, forest or desert. So, the assistance brings enough fuel to get the vehicle to the nearest gas station.
Lockout service – When a driver has locked himself/herself out of the car assistance will be provided open the door of the car.
What about the cost of the roadside assistance? What will happen if you availed the assistance but unable to pay for it? There comes the role of a car insurance. If you have availed a comprehensive car insurance plan, then surely the insurance company will pay the cost of roadside assistance for bike and car. So, to feel safe on roads, you should arrange for roadside assistance and apply for insurance beforehand.