The thrill of speed has captured the heart of many youths. For some the thrill of speed is like an addiction that gives them an adrenaline rush.
Today's youth want cars that are fast as well as furious so that they can quench their thirst for speed. When you talk about some of the fastest cars, names like Bugatti, Lamborghini, Porsche, Ferrari, and Bentley come in our minds. But these are cars that are beyond the reach for even the upper-middle-class society.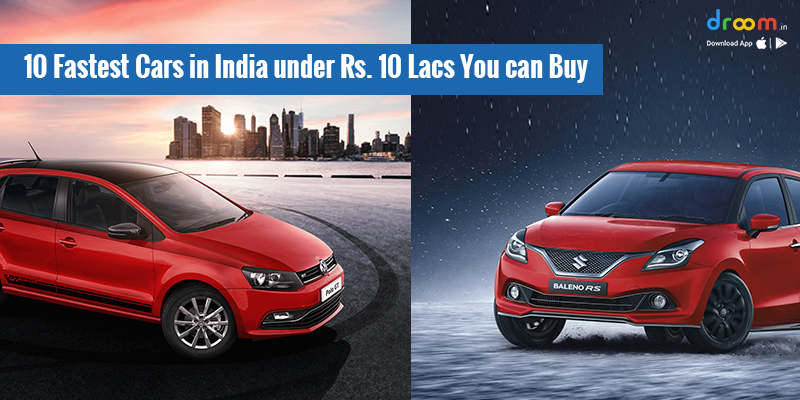 But do not get disappointed as there is some car under 10 lacs that can fulfill your need for speed!
Volkswagen Polo 1.6L GT TDI Diesel
This German machine boats of being the fastest hatchback cars in the Indian car market. The Volkswagen Polo 1.6 L GT T diesel variant is even more powerful that produces a maximum power of 105bhp at 4400RPM and an impressive torque of 250Nmat1500-2500rpm. The car can reach the 100kmph mark under 10secs. The car is just not fast but also fuel efficient as the car gives a fuel mileage of 20.14 kmpl.
With such a powerful engine the car can hit a top speed of 190kmph. This powerful hatchback can be yours at a price of 7.8 lacs.
Hyundai Grand i10
The Korean auto giant has a good grip on the hatchback segment with its Grand i10 model that still sells like hotcakes. The car comes with two variants, but the diesel variant is more powerful that churns out a 71Bhp of power and 71Nm of torque. The car can reach a ton from a standstill in 12.5 seconds. The car has also good fuel efficiency of 24kmpl. The hatchback is priced in the range of 4.45 lacs to 6.44 lacs depending upon the variant.
Honda Brio
The Japanese auto giant has given the rivals a run for their money with their Honda Brio that has distinctive looks in the entire hatchback cars segment. But do not get fooled by its mere beautiful looks as the car has got a pretty powerful engine that produces a peak power of 90bhp that enables it to reach the 100kmph mark in 12secs.  The car is priced in the range of 4.06 lacs and 6.13 lacs.
Toyota Etios Liva Sportivo
Though the car is not impressive from the outside, but the car makes speed fanatics happy as the car can reach triple digits speed in mere 12seconds. This is possible with their powerful diesel engine that churns out 89bhp of power. This hatchback is priced between 4.76 lacs and 6.97 lacs.
Ford Fiesta
This American sedan has made a strong presence in the Indian hatchback market with its Fiesta model. This car is powerful as the diesel engine produces an impressive 91PS of power and a maximum torque of 204Nm.
This car is fast as it can reach a top speed of 189kmph and can reach triple digits in mere 13.5 secs. The car is priced between 7.87 lacs and 9.44 lacs.
Fiat Linea T-Jet
The Italian auto brand has its fastest Indian car named fiat linea T jet that produces 90bhp and a torque of 115Nm. The car reaches triple digits in 10.67 seconds. The turbocharged engine gives a mileage of 15.7kmpl. The car can be yours if you are ready to pay between 7 lacs to 9.74 lacs.
Maruti Suzuki Swift
The indigenous automaker is famous for producing good performance cars at a comparatively low price. The brand won the hearts of millions of people with their famous Maruti Suzuki Swift that is known for quick 0 to 100 acceleration in under 13.25 secs. The hatchback is suitable for average Indian customers as it is priced in the range of 4.42 lacs and 6.95 lacs.
Tata Manza
The less known car in the list is the Tata Manza. Although the car did not do well in the Indian market, the manufacturer has packed some serious power under its hood as the diesel variant churns out an 89bhp of power that enables it to reach 100kmph in under 16secs. The car can be yours if you can shell out 5.91 lacs to 8.31 lacs.
Honda Amaze
For some years ago, Honda did not have a diesel variant but the rising demand for diesel variants has prompted the automaker to come up with their Honda Amaze. The sedan car is very fast as it produces a peak power of 100Ps at 3600RPM that enables to reach the 100kmph mark in under 12.9secs. The car is priced between 5 lacs and 7.55 lacs.
Nissan Sunny
Another Japanese automaker, Nissan manages to come up in the list with their Sunny model. The car come in two variants petrol and diesel. The diesel engine produces a maximum power of 86bhp that enables it to reach 100kmph in under 13seconds. The car is priced between 6.99 lacs and 9.97 lacs, this car has a very powerful and efficient engine.
You can also download our official app to buy or sell your vehicle anytime anywhere: https://oepo.app.link/uo0az5yMzW