Everyone loves to own a car & to get more out of every buck we spend its better to go with a used car. Buying a used car is like searching for treasure inside ocean of several fishes. We need to understand the process of owing one. Following step by step process gives a gist of needful thing that we need to consider while buying a Used Car.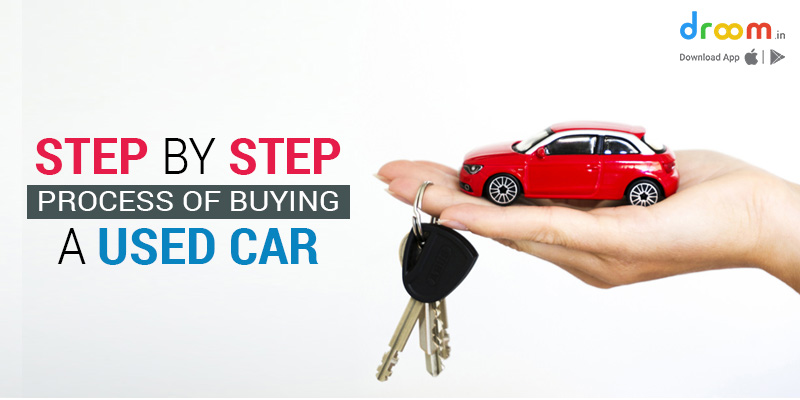 1. Choose Your Purpose: Understand
To buy a car you need to understand why & how you are going to use it. There are several body types, different fuel types etc. Let's say you need a car mostly used for long highway drives you choose a diesel variant, while using in city you tend to buy a petrol. To maneuver easily in heavy traffic, best bet is to go with a hatchback, while roaring over rocky terrains we need mighty SUV. Hence before choosing any car we need to understand where & how we are going use it. Create a checklist with priority rankings as per your convenience. This will help you to evaluate options & finalizing on one.
2. Select Your Budget:
Now you selected which type of car, then next comes budget. How much are we ready to spend. Let's say we wanted to buy a premium hatchback, with decent features of safety space & comfort, we need at least 5 Lakhs in hand to get a Used Car in Gurgaon in good condition. On droom.in one can find their dream car under the budget one has. So, once we understand the purpose we consider our budget & also options in terms of budget. Let's say in hand we got 2 Lakhs while Used Car in Delhi costs 5 Lakhs, then we can opt for a car loan. Droom credit is one way to go for getting loan in a blink.
3. Choose the Right Car:
As we understood the purpose & considered our budget options, now comes the key part which car to buy. Well, each car is different the other, each got its own specifications & options. While considering a car we need to evaluate the options in existence, look into the offerings of a brand & parallelly compare with its competitors. Even with in same name we have several variants. Luckily, we know the purpose & checklist is done already. Basing on priority list narrow down the options. All cars might not give all needed features, however priority list that you prepared helps to rank individual cars basing on your preferences & finalize your dream car.
4. Understand Valuation of Car:
Now we selected the car that we want to buy, but market may be or may not be in our favor when it comes to giving the right price. A used car valuation is slightly bit complex as various factors comes into picture like Make, Model, Year, Trim, KMS driven, depreciation factor, etc. However, an ingenious data driven algorithm "Orange book value" helps you to get Fair market price of any used car that you wanted to buy. It considers all factors, valuates the car & gives the price, everything with in 10 Sec. How cool is it!
5. Choose Car from Droom
We got the market price, they let's get started with the purchase. Its simple, let launch droom.in, here we get many options for the car we have chosen at the price we want. Droom being a market place, its always in favor buyer, sellers compete among themselves to give best value for money vehicle. So, now select your favorite your choice and proceed.
6. Check Vehicle History
Once selecting a vehicle, we need to understand anything & everything about it. To ensure that it is not stolen from any other & placed it online, Droom give details about history of that particular vehicle. With Droom history one can know everything about vehicle past.
7. Contact Seller & Final the Deal
Finally meet the seller, get the vehicle inspected thoroughly, take a test drive, understand what's good & bad with the vehicle. Its better to take your mechanic friend along with you if needed who can understand more complexities of vehicle. Now as everything is upright, make the final payment & Bindaas Ghoom….