The manufacturer and the owners of Maruti Suzuki Vitara Brezza have enough reasons to feel happy and smile since this four-wheeler was selected as the one car which had the highest resale value in the pre-owned four-wheeler market.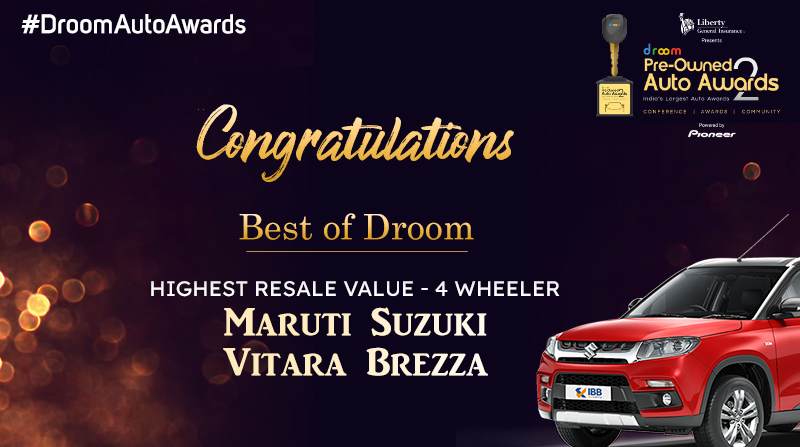 This is the most prestigious and exclusive award which is presented by Droom under its Pre-Owned Auto Award 2 at a ceremony held at ITC Maurya on the 20th of December 2019 where all the important personalities connected with this industry were present. The representative of Maruti Suzuki was the proud recipient of this highly prestigious award.
This award bagged by Maruti Suzuki re-established the old belief that this vehicle is capable of delivering very satisfactory performance even after having delivered thousands of kilometers and enduring the change of ownership several times. It is essentially a certification of the sound workmanship and robust technology that has gone into this car i.e. Maruti Suzuki Vitara Brezza to make it retain great ability to keep delivering highly satisfactory performance year after year.
The winner of 'Highest Resale Value – 4 Wheeler' in 2019 is Maruti Suzuki Vitara Brezza amongst all the cars considered under this competition.
Judging Methodology
In order to identify which make and model of the vehicle (4 wheeler) had the highest resale value, Droom used its very impartial, transparent and reliable vehicle pricing engine called Orange Book Value. With the uniform and unbiased application of this system across all the competing four-wheeler vehicles, they found that Maruti Suzuki Vitara Brezza retained the highest resale value in 2019.
About Maruti Suzuki Vitara Brezza
The 4-wheeler which won the award for having the highest resale value, Maruti Suzuki Vitara Brezza, gives a mileage of 24 km per liter. It comes fitted with a 1248 CC engine and the seating capacity of five adults. Its 5-speed gear-box with manual and Automatic Manual Transmission (AMT – which helps to change gear without manually pressing the clutch pedal) with rear parking sensors makes the drive highly comfortable and smooth. The fuel it uses is Diesel which implies a lower operating cost.