Maruti Suzuki Swift owners and intending buyers of a four-wheeler are entitled to feel happy and confident respectively that their car, Maruti Suzuki Swift, has emerged as the 'Most Loanable four-wheeler' in the market. This award was announced in the Droom Pre-Owned Auto Award for the year 2019 ceremony held at ITC Maurya on the 20th of December 2019.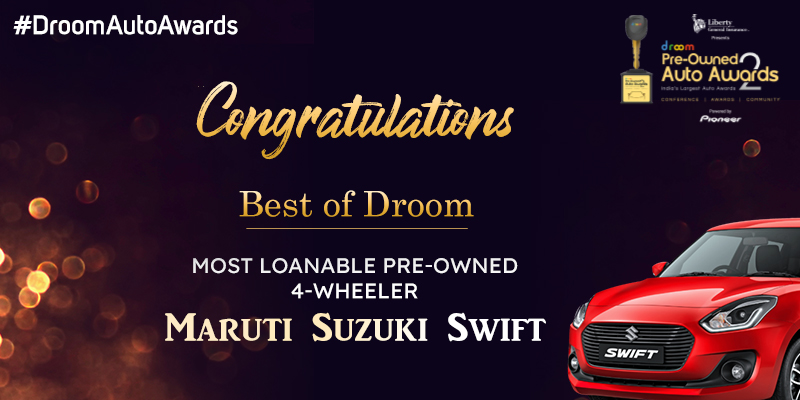 A large number of automobile journalists, Media personalities and of course the leaders of the automobile industry – together with a large number of automobile enthusiasts – were present at the award presentation ceremony.
The choice of this vehicle, Maruti Suzuki Swift, as the most loanable four-wheeler vehicle in the market is a big certificate to this car despite having run thousands of kilometers and withstanding a series of ownership changes this car retains the capacity to keep performing satisfactorily for longer periods. Designers and manufacturers have every reason to feel happy.
The winner of 'Most Loanable Pre-Owned 4-Wheeler' is Maruti Suzuki Swift.
Judging Methodology
Droom has a very transparent and clear policy of deciding on the 'Most Loanable Vehicle Pre-Owned Vehicle' award category. Their method of scoring and evaluating is based on Droom Credit's proprietary loan disbursal algorithm.
The evaluation process is founded on the number of loans that a certain make and model of car has been able to get disbursed from the financial wing of Droom Credit's platform.
Hence, the vehicle which gets scores the highest in this process emerges the winner.
About Maruti Suzuki Swift
This car has proved its worth by delivering very satisfactory mileage. The petrol variant delivers a mileage of 21.21 km per liter while the diesel variant gives whopping 28.40 km per liter. Their robust design complete with LED Projector Headlights, Braking system and the extensive care taken on passenger safety makes it a car that meets the dreams and aspirations of any buyer in the market. The spacious interiors, large luggage space in the boot and the appealing shades make it a very favorite of the people going out with family and friends.