Going on a road trip with family can be troublesome if you have a large family and comfort goes completely out of the question. Perhaps the best thing you can do is buy a car that offers sufficient cabin room for a comfortable and enjoyable riding experience. Most of the people get confused when choosing between an SUV and MUV and make the wrong choice due to the price.  The differences between the both are quite clear; you just have to look at the size of the vehicle or its tyres. MUVs and SUVs have different prices and are available in luxury as well as in commuter segment, but if you want to save money while getting a good deal then here are the best SUVs and MUVs that you can buy under INR 12 lakhs.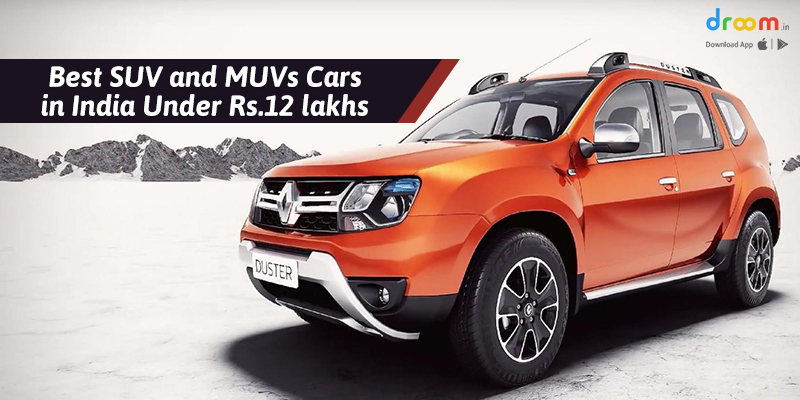 SUV:
1.Maruti Suzuki Vitara Brezza: It is based on the global C platform and made its debut in the year 2016 in India at the Auto Expo. The car has a 1.3-litre diesel engine and generates power upto 89bhp and torque upto 200Nm. It also offers fuel efficiency upto 24.3 kmpl.
2.Hyundai Creta: It is mostly preferred by the high-spenders both as a new purchase and Used SUV Cars. It has a fluidic design which makes it look elegant and massive. The vehicle comes with 3 engine types: 1.6-Litre Petrol – 121 bhp and 155Nm – 15.29 kmpl, 1.6-litre Diesel (AT/MT) – 126 bhp and 260 Nm – 19.67 kmpl, 1.4-litre Diesel – 89 bhp 200 Nm – 21.38 kmpl. It comes with a price tag of INR 9.28 to 14.63 lakhs that varies on the type of configuration.
3.Ford EcoSport: The EcoSport is a combination of good looks and a quick engine; it comes with 3 engine types:  1.5-litre petrol – 110 bhp and 140 Nm – 15.8 kmpl, 1.0-litre Ecoboost – 123 bhp and 170 Nm – 18.88 kmpl, 1.5-litre diesel – 90 bhp and 204 Nm – 22.7 kmpl. The price of the Ford EcoSport ranges from INR 7.18 to 10.46 lakhs.
MUV:
1.Renault Lodgy: Since Innova jumped the price bar of INR 12 lakhs, Renault Lodgy finds its spot as the best MUV in India. It looks similar to the Duster and runs on the 110PS diesel engine. The price of the car starts from INR 8.54 lakhs and can reach upto INR 10.54 lakhs.
2.Honda Mobilio RS (O): The Mobilio RS (O) is built on the Brio/Amaze platform and has almost similar components; it is also one of the most sought Used MUV Cars. The car comes with a 1.5-litre i-DTEC engine and develops 100PS of power. The car falls in the price range of INR 12 lakhs.
3.Nissan Evalia XV (O): With spacious interiors and a decent appearance, the Nissan Evalia makes a perfect MUV. It has a 1.5-litre dCi diesel engine which is also featured in Micra and Terrano; it generates maximum power upto 84.8bhp@3750rpm. It can be purchased at a price of 9.14 lakhs.
The above-mentioned cars are your best buys under INR 12 lakhs, with any of these cars, you will never complain about space of comfort.